Jessica Ennis-Hill: Retired Olympic champion an 'all-time great' - Steve Cram
Last updated on .From the section Athletics
The newly retired Jessica Ennis-Hill is one of Britain's greatest athletes, says former world 1500m champion Steve Cram.
The 30-year-old won heptathlon gold at London 2012 and added a silver medal at the Rio Olympics.
Ennis-Hill also won the World Championships in 2009 and again in 2015, just 13 months after the birth of her first child, Reggie.
Cram told the BBC: "She fully deserves to be called an all-time great."
And former Olympic relay gold medallist Darren Campbell called her achievements "mind-blowing".
Ennis-Hill's heptathlon gold was one of the the iconic moments at London 2012 and occurred on 'Super Saturday', when British trio Ennis-Hill, Greg Rutherford and Mo Farah all won gold with 44 minutes.
The Sheffield athlete announced her retirement on social media on Thursday, writing: "Retiring now is right. I've always said I wanted to leave on a high and have no regrets and I can truly say that."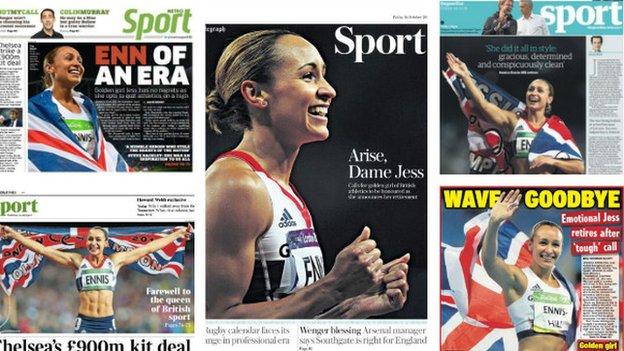 Former Olympic gold medallist Campbell told Radio 5 live: "It's a sad day but it's also a day where we should celebrate what a phenomenal athlete Jessica Ennis-Hill was. She gave so much to sport, achieved so much, had so many inspirational moments throughout her career.
"She is a normal girl, but she has achieved things that are exceptional and mind-blowing. It is only when you sit back and reflect that you realise how mind-blowing they are."