Ciara Mageean wins 3,000m at Irish Indoor Championships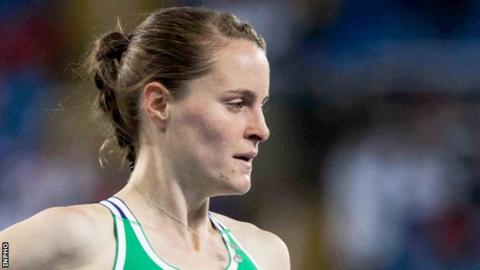 Portaferry athlete Ciara Mageean landed the 3,000m title at the Irish Indoor Championships in Dublin on Saturday.
Running the day after the death of her grandmother, Mageean, 24, held off Fionnuala McCormack and Olympic steeplechaser Michelle Finn for gold.
"The 1500m at the European Indoor Championships in Belgrade are my focus" said Mageean suffering from a cold.
"That's what I am looking forward to - getting over there and running good and fast."
Mageean clocked 9:08.83 to win in the new National Indoor Arena , four seconds clear of silver medallist Finn with McCormack taking bronze seven seconds behind Mageean.
"The time is not overly fast," added Mageean.
"I was nervous going into the race because it was a very good field with all the girls there.
"Fionnuala and Michelle are good hard competitors, especially over 3,000 metres. I am happy to come away with the win and the title.
"It's a good confidence boost and I still have a good two hard weeks in the lead up to Belgrade, so I will be focused on being healthy and getting rid of this head cold."
Elsewhere, Letterkenny's Brendan Boyce took bronze in the 5,000m walk in 20:09.28 as Alex Wright broke Rob Heffernan's national record in 18:50.70.
Finn Valley's Summer Lecky took the high jump gold with a best of 1.81m, while Peter Glass, formerly of North Down, took pole vault silver with a best of 4.45 metres.