Ben Reynolds and Kerry O'Flaherty win at Irish Indoors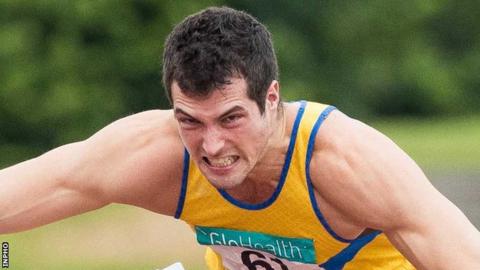 North Down's Ben Reynolds says he is ready for the European Indoor Championships in Belgrade after winning the Irish 60m hurdles title on Sunday.
The 26-year-old powered to success in Dublin in a time of 7.83 seconds.
Newcastle and District's Kerry O'Flaherty was a convincing winner of the women's 1500m in 4:20.86.
City of Lisburn's Ellen McCartney took pole vault gold with a best of 3.40m with Ballymena and Antrim's Claire Wilkinson taking silver on count back.
Reynolds was delighted with is showing as he finished the sprint hurdles well clear of second-placed Ger O'Donnell.
It was his second race in two days, having finished fifth in the Birmingham Grand Prix on Saturday.
"The technique is coming together, so I am feeling confident," he said looking ahead to the 3-5 March Europeans.
"I am taking a nice and easy approach and letting it come together - today was a good confidence boost."
Meanwhile, O'Flaherty finished some five seconds clear of UCD's Ellie Hartnet in the women's 1500m.
"I'm delighted to win a senior championship" said the 2016 Olympian.
"I went out for a 70-second 400 metres and I was able to keep that pace.
"I am going to Belgrade full of confidence and will look to do my best."
Former GB athlete Leon Reid won the 60m in 6.74.
England-based Reid, who competed for Northern Ireland at the 2014 Commonwealth Games. is expected to soon declare that he wants to compete for Ireland.
City of Lisburn's Erin McIlveen landed 800m bronze in 2:08.59 just behind Fiona Kehoe who won in 2:08.17.
Lagan Valley's Mandy Gault took 400m bronze in 55.06 seconds behind the impressive Belgrade-bound Phil Healy in 53.49 seconds.