Robbie Simpson: Scot feels no pressure ahead of world championships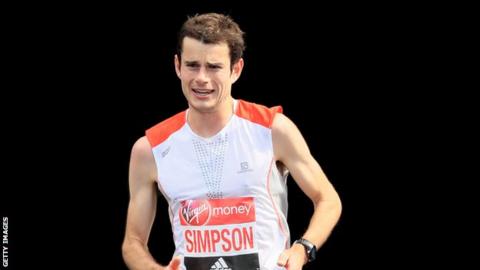 Robbie Simpson says he can approach the athletics world championships in relaxed mood after securing his spot in Team GB's marathon squad.
The Scot finished as the second-fastest British male in Sunday's London Marathon, in 2:15:04, to seal his place in the team for the worlds in August.
"I'm really looking forward to it and I think I will run better without the pressure on myself," Simpson said.
"I'll go into the race relaxed because I know the training has been working."
Simpson, 25, is a relative newcomer to road racing, having focused on mountain running for most of his career.
And he admitted he surprised even himself by booking a spot in Team GB for the worlds in London later this year.
'I thought my chances of qualifying were quite low'
"I'm completely delighted," the Scot told BBC Scotland. "I thought I might be able to get the qualifying time but finishing in the first two Brits was going to be a really big ask because there were a lot of big names there, guys who had run so much faster than me in the last few years.
"I thought my chances of qualifying were quite low but the way it turned out, a lot of people struggled in the second half and I was able to move through the field. I didn't think I would qualify at half-way but then when I got to 15-16 miles I was thinking 'this could be on today', so I kept pushing and it was an amazing feeling to reach the finish knowing I was going to qualify for the world champs."
The only British man to finish ahead of Simpson on Sunday was Josh Griffiths of Wales who, remarkably, ran 2:14:49 on his marathon debut.
"I've known Josh for a few years," Simpson added. "I think we did some mountain racing together, but I couldn't believe how well he ran for his debut. To run such a mature race in your first shot, and to take on all those top names like he did, was just amazing.
"It gave me a boost because we ran a lot of it together in the second half. I couldn't stick with him but I was really pleased to see him being the first Brit, especially as no-one was expecting that."
Simpson's time on Sunday also met the selection standard for Scotland's 2018 Commonwealth Games team, but he is not guaranteed a place on the plane to Australia just yet.
For now he is looking ahead to the world championships and, given his background, he would like to see at least one addition to the marathon course in London.
"Strangely, I find road racing harder because in mountain running you always have the confidence to know there's a big hill coming up and people are going to suffer on it - it's a case of fighting up the hill and being the strongest," he added. "In road running there's nothing to slow anyone down. It would be good if there was a big hill in the middle of the world champs course in London."