Island Games 2017: Tom Druce expects Guernsey to beat 2015 athletics tally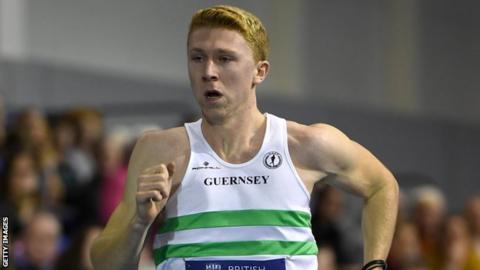 Guernsey team manager Tom Druce expects his athletics squad to win a "much larger" Island Games medal haul than they did in Jersey in 2015.
The Sarnians won five gold medals at the last event, as well as five silver and seven bronze medals.
Druce, who holds Guernsey records at 100m and 200m, has included World Under-20 semi-finalist Cameron Chalmers in his 32-strong squad for Gotland.
"There's definitely more medal potential there [than 2015]," he said.
"It's always very tough to get to that top step of the podium, but I'm expecting a lot of silver and bronze and hopefully enough gold as well.
"I'm really excited - I think we're going to come back with a much larger haul than [in] Jersey, so fingers crossed for that."
Druce won 10 Island Games medals and reached a Commonwealth Games semi-final in his sprint career, and is now Guernsey Athletics' development officer.
Other than Chalmers, 20, Lee Merrien and Kylie Robilliard are among Guernsey's medal hopes, with Jasmine Norman and 15-year-old Amelia Lees included for their Island Games debuts.
"I think we've got a really good chance to improve markedly on the medal count from athletics last time," Druce added.
"I've been in the job for more than two years, so I've got to take a bit more responsibility if things don't go well."
Guernsey squad: Josh Allaway, Hannah Barrett, Harry Burns, Alastair Chalmers, Cameron Chalmers, Indi Gallagher, Abi Galpin, Teddy Le Clerc, Amelia Lees, Hannah Lesbirel, Vicky Mann, Jasmine Norman, Kylie Robilliard, Sam Wallbridge, James Bougourd, Zoe Fitch, Richard Bartram, Dave Emery, Dan Galpin, Carl Holden, Jenny James, Ed Mason, Eliza Mason, Laura McCarthy, Sarah Mercier, Lee Merrien, Simon Murphy, Louise Perrio, Becca Toll, Joe Chadwick, Jonny Guille, Lucas Rive.