Jazmin Sawyers says 'bad periods' behind absence from Boston competition
Last updated on .From the section Athletics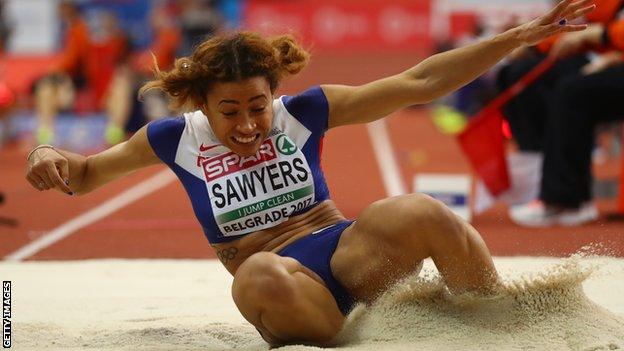 Long jumper Jazmin Sawyers pulled out of a competition in Boston because of the "very bad periods" she gets.
The 23-year-old Briton said she chose to explain the reason for her absence because it was "something that isn't talked about enough in sport".
"Can't walk, intense pain radiating down my legs, head spinning, full body sweating, shouting, crying kind of bad," she wrote on a Twitter message.
"Five minutes before leaving for the track all of the above happened."
In 2015, British tennis player Heather Watson highlighted "girl things" as one of the reasons for her exit from the Australian Open.
Sawyers, who said her periods affected her very badly for the first one or two days, added: "If you don't have periods, or don't have them this bad, it's hard to imagine why I can't just suck it up and compete.
"But when you're in so much pain you can't walk more than a few steps and your legs buckle under your own weight, there's no chance you can jump."
Sawyers was a finalist in the long jump competition at the 2016 Olympic Games in Rio and won silver at the 2014 Commonwealth Games in Glasgow.
She added she was "fine, and will be jumping in Oslo next week".