Parish Walk: Liam Parker claims 'surreal' win as Karen Chiarello breaks women's record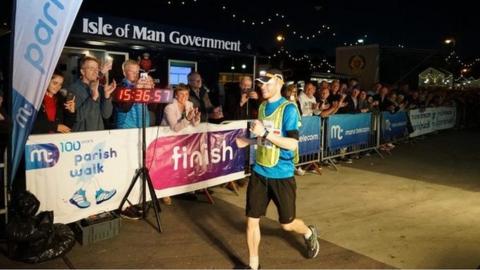 Liam Parker said he "couldn't be any happier" to win the 2017 Parish Walk held in baking hot conditions over the weekend.
The 26-year-old from Ramsey finished the 85-mile walk in 15 hours 36 minutes and 59 seconds, around 17 minutes ahead of Karen Chiarello in second place.
"I've no idea where I pulled it from. It still feels surreal and this could take some time to sink in," he said.
Parker's win made him the youngest winner in two decades.
The electrician added: "I'd just like to say a massive thank you to everybody who came out and cheered me on along the way, it really means a lot."
Chiarello finished second in 15:53:44 to break Janice Quirk's 2009 record by more than four minutes.
Adam Killip finished just over an hour down on Chiarello in third in a time of 16:58:26.
Richard Gerrard, who was going for a third consecutive win, was holding second place when he retired at Bride.
Only 127 of the 1,116 who started at the National Sports Centre in Douglas completed the full distance inside the time limit.
The majority of those taking part aimed to reach Rushen after 19 miles or Peel after 32 miles.
Connor Gilbert and Anna Hall won the men's and women's under-21 races to Peel.