Omar McLeod: Olympic gold medallist sets sights on 110m hurdles world record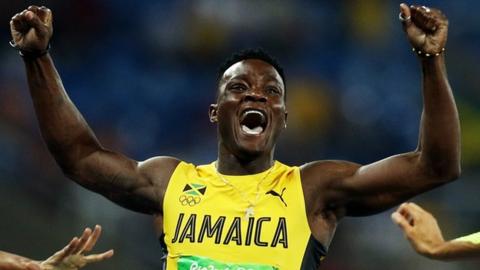 Olympic gold medallist Omar McLeod is focusing on the 110m hurdles world record after setting a Jamaican national record with a time of 12.90 seconds.
American Aries Merritt's world record stands at 12.80 and McLeod said he hopes to break it before the London World Championships in August.
McLeod, 23, has races in Paris and Budapest before travelling to London.
"I did not get it, so I am going after it next time," he said.
McLeod's time on Saturday beat the previous Jamaican record of 12.94 set by Hansle Parchment in 2014 in Paris.
"The coach wanted a 12.8 and I know he will be a little upset. But I can tell him I set a national record of 12.90 and am now the fifth fastest man in history."
McLeod set the time during the Jamaican track and field championships, which are also acting as qualifiers for the World Championships.
On Friday at the Jamaican trials, Yohan Blake ran his fastest time in five years in the 100m while Elaine Thompson clocked her fastest time this year in the women's 100m.