Island Games 2017: Isle of Man gymnasts claim eight gold medals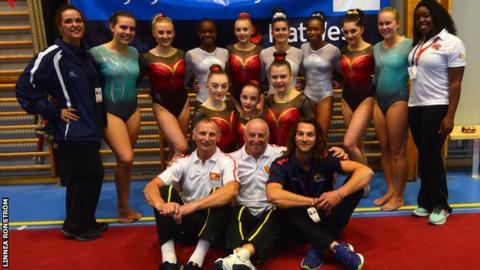 The Isle of Man claimed 10 gold medals at the Island Games in Gotland on Monday to move second in the medal table after the second day.
The Manx gymnasts dominated proceedings in Visby to claiming eight gold, four silver and three bronze medals.
The team finished the day with 28 medals and 32 in total.
The Games, which act as an Olympics for smaller islands, will see 2,500 competitors from 23 different islands around the world compete in 14 sports.
Tara Donnelly claimed a hat-trick of golds in the individual floor, beam and vault, while Nicholas Harvey claimed both the individual high bar and parallel bars titles.
Donnelly said: "We've been working as a team for so long. It is great. It is brilliant to hear the Manx national anthem so many times."
Callum Kewley (individual vault) and the women's team also claimed gold.
The island's other gold medals came from swimmer Guy Davies, who won the men's 100m breaststroke, and the women's tennis team.
Further medals came in the pool, tennis, athletics, cycling, badminton and shooting.