World 24-Hour Championships: Japanese and Polish athletes triumph in Belfast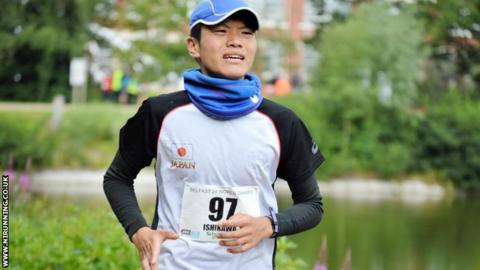 Japan's Yoshihiko Ishikawa and Poland's Patrycja Bereznowska have clinched the men's and women's titles at the World 24-Hour Championships in Belfast.
Ishikawa ran 267.566 kilometres to take the men's title ahead of Sweden's Johan Steene (266.515) and Poland's Sebastian Bialobrzeski (265.535).
Bereznowska, 31, covered 258.333km as she beat compatriot Aleksandra Niwinska (251.078) and USA's Katalin Nagy.
The Pole's winning distance improved her own world record.
Japan and the USA clinched the men's and women's team titles in Belfast.
Bereznowska finished fifth at the last world championships in Turin in 2015, when she helped Poland clinch team bronze.
The Pole, who also competes in long distance horse riding events after obtaining a degree in horse breeding and horse riding, was second at last year's European Championships in France where her performance helped Poland win the team title.
Britain's Dan Lawson was in third place behind Hungary's Tomas Rudolf and the Czech Republic's Radek Brunner after 18 hours of the men's event before pulling out because of injury.
Ishikawa passed Rudolf to take the lead with under two hours remaining and swapped the lead with Swede Steene late in the closing stages before clinching victory.
Eoin Keith was the leading Irishman in 18th place as he covered 246.148km while Tim Brownlie, also representing Ireland, was the first Northern Irishman in 26th spot (241.192km).
As as result, Keith won the Irish National Championship.
Amy Masner won the Irish women's title after running 227.976km to take 17th while Louise Smart (204.848) and Susan McCartney (203.196) were in 38th and 40th places.