World Championships: David King expects more after sealing 110m hurdles spot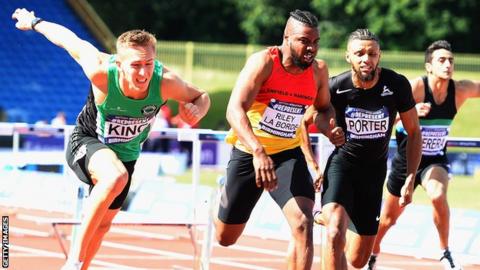 Hurdler David King says he has "shifted his expectations" after sealing a place in the 110m at next month's World Championships in London.
The 23-year-old from Plymouth won the Great Britain trials in 13.55 seconds in Birmingham on Sunday.
"I don't want to be one of these athletes that just go out at the heats," King told BBC Radio Devon.
"Trials went really well for me and badly for others, which is fortunately not my problem - I capitalised on it."
King, based in Bath and trained by James Hillier, will compete at the London Anniversary Games at the Olympic Stadium this weekend.
He will then go to a training camp in Paris to prepare for the World Championships.
"I don't want to be running the same times as I've been running the last few races - I want to start progressing a little bit and run a bit faster," he added.
"Until now the goal has been to get there [to the World Championships], but once you get there your expectations shift a little bit."