World Athletics Championship 2017: Injured Paul Pollock ruled out of marathon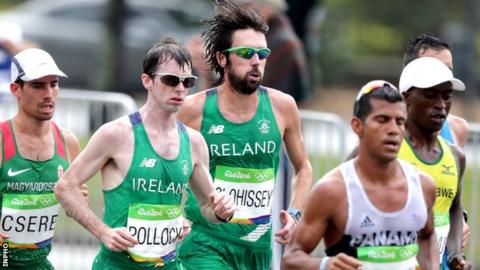 Holywood runner Paul Pollock has been forced to pull out of Sunday's marathon at the World Championships in London because of injury.
Pollock overcome a hip injury earlier this season but revealed on Wednesday that he had suffered two metatarsal stress fractures over the last week.
The 31-year-old, Ireland's leading finisher at the Rio Olympics in 32nd spot, said that he was "gutted".
He improved his personal best to 2:15.30 in Japan earlier this year.
Pollock confirmed his withdrawal in a tweet, where he made clear his huge disappointment after missing out on what is effectively the closest an Irish athlete can get to a 'home' major championships.
He later told BBC Sport Northern Ireland that he had considered getting an anesthetic injection in the hope that it might enable him to compete but had been advised against this.
"I got the results of my scans at the weekend. We looked at the option of maybe getting the injection but were told the metatarsals would almost certain completely fracture if I did try and run and that would mean at the minimum three months out and possibly even the scenario of not being able to run again," said Pollock.
"I thought that was too big a risk given that there is still a lot that I want to achieve in the sport and with hopefully the Commonwealth Games coming up for me in Australia next Spring.
"As it is now, I should be able to start some training again after two or three weeks rest and hopefully aim for a cross-country season including the European Cross before the Commonwealth Games."
Pollock added that he had attempted to run on Wednesday morning after a number of days of rest but had reached "barely 50 metres before I had to stop".
NI Athletes with Commonwealth Games consideration standards
Kate O'Connor
Heptathlon
5759 pts - 103.77%
Combined Events
Dempsey McGuigan
Hammer
70.55m - 103.45%
Two or more standards
Leon Reid
200m
20.38 secs - 102.01%
Two or more standards
Ciara Mageean
1500m
4:03.57 - 101.90%
Two or more standards
Sommer Lecky
High Jump
1.85m - 101.65%
Two or more standards
Ben Reynolds
110H
13.60 secs - 101.47%
Two or more standards
Adam Kirk-Smith
3,000m sc
8:37.41 - 101.14%
Two or more standards
Paul Pollock
Marathon
2:15.30 - 100.89%
Long distance
Emma Mitchell
5,000m/10,000m
32:51.78 (10K) - 100.72%
Long distance
Amy Foster
100m
11.42 - 100.18%
Two or more standards
Adam McMcMullen
Long jump
7.85m - 100.90%
One standard
Kerry O'Flaherty
3,000m sc
9:50.75 - 100.55%
One standard
Mollie Courtney
100H
13.44 secs - 100.07%
One standard
The county Down man is among 13 Northern Ireland track and field performers to have achieved Commonwealth Games considerations standards but depending on representation in other sports, there is the possibility not all those athletes will be selected.
As it stands, Pollock is currently ranked eighth of those athletes under a percentage of standard achieved ratings system used by Athletics Northern Ireland.
Pollock, like his fellow long-distance runner Emma Mitchell and heptathlete Kate O'Connor, will have his selection claims judged on one qualifying standard while athletes in other events must post two standards to satisfy Athletics Northern Ireland's criteria.
O'Connor leads the list ahead of hammer thrower Dempsey McGuigan with Leon Reid and Ciara Mageen completing the top four.
"With so many athletes having achieved the standards, I don't know what is going to happen in terms of selection but I certainly hope to compete in the marathon at the Commonwealth Games," added Pollock.
The county Down man performed creditably at the 2013 World Championships in Moscow when his time of 2:16.42 left him in 21st position.
With Pollock ruled out, Raheny's Mick Clohisey and Clare man Sean Hehir will represent Ireland in Sunday's race while Ciara Mageean is the only Northern Ireland athlete in the 11-strong Irish team.