CJ Ujah: How Diamond League victory and London low can take him to the top
Last updated on .From the section Athletics45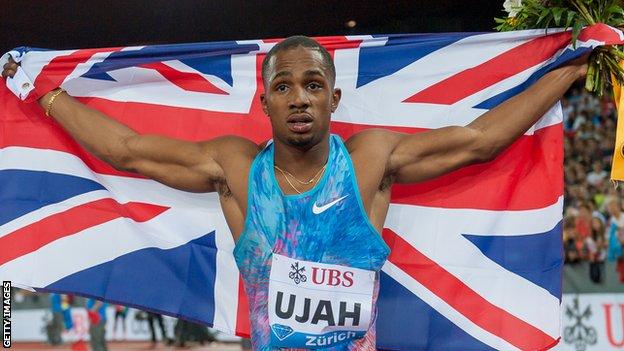 'Big Shapes' is not a tune that you will find on any motivational playlist.
"It's like bam, bam, bam, bam, bam," explains CJ Ujah, recreating an urgent, staccato beat.
"It builds to this crescendo."
But it plays only in Ujah's head, having been planted there by his coach Stuart McMillan.
McMillan, born in the United Kingdom, raised in Canada, now based in the United States, worked as radio DJ for 12 years, before concentrating on training sprinters full-time.
That unorthodox background helped provide the soundtrack to Ujah's 2017 success.
"He is a go-out-there-and-have-fun coach," the 23-year-old says.
"He relates sprinting more to rhythm and music.
"That tune - Big Shapes - helps me think about opening up my stride length.
"He tells you to go out and have fun. He doesn't put too much pressure on you to nail this, this and this because if you are looking to run the perfect race, it is pretty much impossible.
"Even Usain Bolt's 9.58 world record in 2009 was not a perfect race.
"That is an enjoyment thing that British sprinting is missing out on. You need to enjoy it while you can."
Relax. Do your best. Trust your training. That simple ethos helped Ujah get over his failure to make the 100m final at the World Championships in London in August.
After missing qualification by 0.02 seconds, he ran the opening leg for Britain's gold-winning 4x100m team seven days later.
Less than a fortnight after that, he beat new world champion Justin Gatlin to win the prestigious Diamond League final in Zurich.
Ujah describes that victory as "redemption" for his individual showing at London 2017. In 2018, he hopes to start talking about domination.
Ujah's Diamond League season

Meeting

Result (Ujah's time)

Opponent beaten

Eugene

3rd (9.95 seconds - wind assisted)

De Grasse, Gatlin, Gemili

Rome

1st (10.02)

Vicaut, Meite

Oslo

2nd (10.02)

Meite, Gemili

London

1st (10.02)

Dasaolu

Rabat

1st (9.98)

Meite, Mitchell-Blake

Monaco

4th (10.02)

Rodgers, Belcher

Birmingham

1st (10.08)

Dasaolu, Hughes

Zurich

1st (9.97)

Gatlin, Simbine, Powell
Jamaican great Usain Bolt's retirement, coupled with Gatlin's advancing years, has put athletics' headline event in a state of flux. The heir to the throne is not immediately apparent.
Ujah's personal best is a relatively modest 9.96 seconds - his time of 9.95 at May's Diamond League meeting in Eugene is not counted because it was wind assisted. He was only joint-11th fastest in the world last year.
But he has five Diamond League victories this season - and that, combined with the fact that London produced the slowest major 100m final for six years, suggests his big-race consistency, rather than eye-catching times, may be key to getting in the short-distance shake-down.
Ujah has had a close-up look at one of the other men emerging on the 100m scene, as Andre De Grasse also trains under McMillan's tutelage in Arizona.
The 22-year-old Canadian won bronze behind Bolt and Gatlin at Rio 2016, but was denied a tilt at this year's world title by a hamstring injury.
"His relaxed style is a big strength," Ujah says. "Andre might not turn up to training at his best, but when it comes to the race, he will be a different athlete.
"In training, he is bantering, having jokes.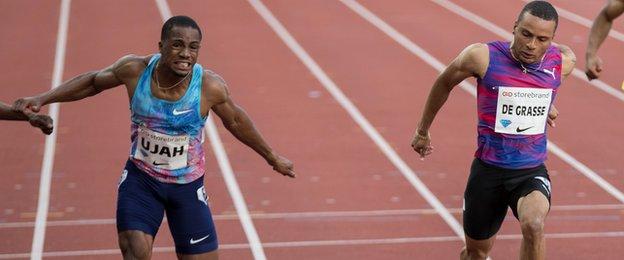 "In the build-up to the Oslo Diamond League for instance, he was a metre or so behind me the whole week in training, playing possum, and then when it came to the race, he pipped me on the line.
"Literally a week before the World Championships, he did the same thing. I started slowing down as well. Coach [McMillan] found it funny but warned us he would stop the session.
"It is a nice rivalry, it's friendly. We talk on the line and have fun, but when it gets down to the 'on marks, set, go', we are rivals."
American Christian Coleman, who won silver in London and is the fastest man this year, is a "true champion and warrior", adds Ujah.
Jamaica's Julian Forte, who ran a personal best of 9.91 this season, and Coleman's compatriot Trayvon Bromell, who tied for 2015 world bronze with De Grasse, get name-checked by Ujah as athletes to watch too.
But he also expressed optimism regarding the prospects of Britain's new generation.
Reece Prescod, who won the British title after selectors let a cramping Ujah know he could miss the final and still be a "strong possibility" for the World Championships team, finished seventh in London.
Fellow 21-year-old Ojie Edoburun is a little further behind in his development, but a medallist at major youth and junior championships.
The trio met up at Ujah's house for a barbecue at the end of the season and the host hopes they will be keeping each company in major finals soon.
"British sprinting is really moving on at a crucial time," he adds. "It is time for us a nation to establish ourselves on the scene.
"I think what I have done, what Reece has done, will get everyone ready to train hard over the winter to get ready for next season and build on it.
"Once everyone starts realising that sub-10 is just a number and you can run it whenever really, we will start seeing British sprinting dipping under the 9.90 mark and going faster."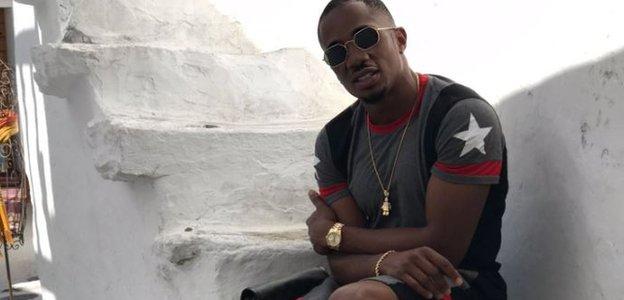 The smaller the numbers get on the clock, the bigger the rewards. Ujah can attest that after picking up a $50,000 (£39,000) prize cheque for his Diamond League final win.
"I have been going shopping for clothes, a bit of technology, but, mainly, I have been saving smartly," he laughs.
The experience banked - of victory in Zurich, disappointment in London and mood music in Arizona - might be Ujah's canniest investment of all.