Kevin Seaward becomes latest NI athlete to achieve Commonwealth Games mark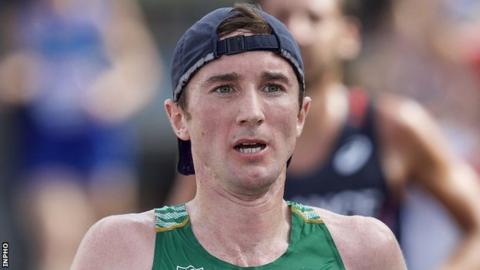 Kevin Seaward became the 14th Northern Ireland athlete to achieve a Commonwealth Games consideration mark as he clocked 2 hours, 15 minutes and 50 seconds at the Berlin Marathon.
Seaward's time was 40 seconds inside Athletics Northern Ireland's standard.
Laura Graham was an agonising five seconds outside the women's Gold Coast standard as she clocked 2:37.05 to improve her PB by over four minutes.
Gladys Ganiel O'Neill also improved her best as she came home in 2:37.55.
2014 Commonwealth Games athlete Ganiel O'Neill's time cut 52 seconds off her previous best set in Seville last year but was also outside the Gold Coast mark.
Rio Olympian Breege Connolly was in a group alongside Graham and Ganiel O'Neill as she reached halfway in 1:18.37 but then dropped out between the 25 and 30-kilometre marks.
Kilkeel mother-of-four Graham set her previous personal best of 2:41.46 in Belfast back in May only eight days after clocking 2:42.38 in the London Marathon.
NI Athletes with Commonwealth Games consideration standards
Kate O'Connor
Heptathlon
5759 pts - 103.77%
Combined Events
Dempsey McGuigan
Hammer
70.55m - 103.45%
Two or more standards
Leon Reid
200m
20.38 secs - 102.01%
Two or more standards
Ciara Mageean
1500m
4:03.57 - 101.90%
Two or more standards
Sommer Lecky
High Jump
1.85m - 101.65%
Two or more standards
Ben Reynolds
110H
13.60 secs - 101.47%
Two or more standards
Adam Kirk-Smith
3,000m sc
8:37.41 - 101.14%
Two or more standards
Paul Pollock
Marathon
2:15.30 - 100.89%
Long distance
Kevin Seaward
Marathon
2:15:50
Long distance
Emma Mitchell
10,000m
32.51.78 - 100.72%
Long disatnce
Amy Foster
100m
11.42 - 100.18%
Two or more standards
Adam McMcMullen
Long jump
7.85m - 100.90%
Two or more standards
Kerry O'Flaherty
3,000m sc
9:50.75 - 100.55%
One standard
Mollie Courtney
100H
13.44 secs - 100.07%
One standard
Seaward, who competed in last year's Olympics, produced a perfect judged race as he clocked 1:07.55 for both halves.
The Belfast man set his personal best of 2:14.52 in the German capital two years ago.
The Berlin race offered the four Northern Ireland hopefuls their last chance of putting themselves in the frame for Gold Coast selection with the qualifying period ending on 30 September.
Seaward is now among 14 Northern Ireland track and field performers to have achieved Commonwealth Games considerations standards but depending on representation in other sports, there is the possibility not all those athletes will be selected.
Distances runners such as Seaward, Paul Pollock and Emma Mitchell plus heptathlete Kate O'Connor, will have their selection claims judged on one qualifying standard while athletes in other events must post two standards to fully satisfy Athletics Northern Ireland's criteria.
Olympic champion Eliud Kipchoge won the men's race in Berlin but his hopes of a new world record were dashed with his time of 2:03.32 35 seconds outside Dennis Kimetto's mark.
Kenyan Kipchoge finished 14 seconds ahead of Ethiopian marathon debutant Guye Adola after a thrilling race as Wilson Kipsang and Kenenisa Bekele both dropped out after the halfway mark.
Another Kenyan Gladys Cherono won the women's race in 2:20.23.