Lord Coe: Athletics must consider 'radical changes', says IAAF president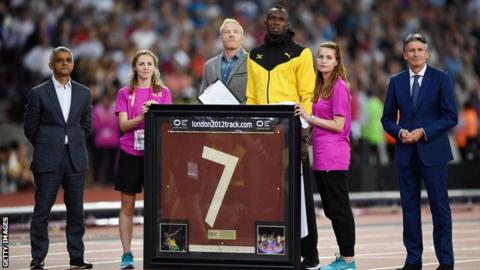 Pop-up running tracks in football stadiums, city franchises and athlete auctions are among the "radical" moves athletics must consider to enhance its appeal, says IAAF president Lord Coe.
Coe was addressing questions about how the sport can innovate and flourish, especially in the wake of the retirement of its superstar Usain Bolt.
The 61-year-old said there would be "challenges from the status quo".
He added: "Athletics should be ready to change. I'm not ruling anything out."
On the eve of the World Championships in London last summer, Coe admitted athletics needed to be "innovative, braver and more creative".
And the middle distance legend has now outlined some of the ways he feels the sport could enhance its appeal to future generations.
The two-time Olympic 1,500m gold medallist said: "We've got to get people to recognise that good racing is not simply about how fast can you get from A to B. There's got to be a drama, there's got to be things happening.
"I want to look at simple things. Why are we wedded to 400m tracks? Why not have a pop-up 300m track in a football stadium?
"There are lots of things we can do. What about cities, teams, franchises? You see the excitement of the pick with the Indian Premier League auction in cricket.
"We need to have some early hour moments of unease about what we are prepared to do. We have to be radical."
Coe also said that, in the wake of Bolt's retirement, athletes need to show more personality to help "take the sport beyond the stadium".
"They have to have an opinion. They have to dominate a room, they have to dominate a stadium. They've got to be interesting," he said.
"Too often I sit there - because I go to a lot of these press conferences post-race - and I'm thinking: are you really offering as much as you should, in terms of the insights and the accessibility?
"We are in the entertainment business. We should just look at this now, recognise that we have to make those changes. Everything is on the table."