Jonny Mellor: Commonwealth Games marathon rejection 'very short sighted'
By Miriam Walker-Khan
BBC Sport
Last updated on .From the section Athletics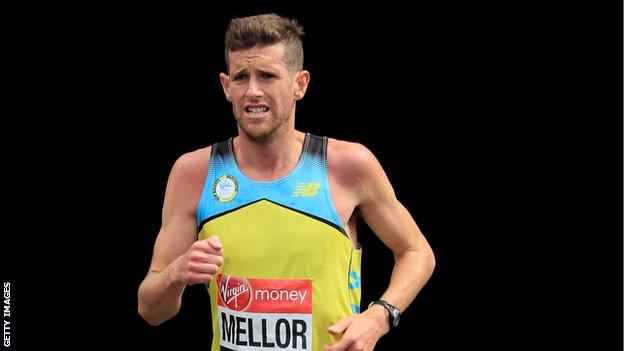 English marathon runner Jonny Mellor has called the decision not to pick him for the 2018 Commonwealth Games "very short sighted" after he ran 63 seconds inside the qualifying standard.
The body told Mellor he was not considered to be a medal contender.
His time of two hours 12 minutes 57 seconds in Berlin would have won Commonwealth gold in 1998 and 2010.
"I never take anything for granted - but I did expect to be on the team, to be honest. So when I found out it was a little bit of a shock," Mellor told BBC Sport.
Mellor was told he had not been selected for the Gold Coast event in a phone call from England Athletics earlier this month.
The 30-year-old submitted an appeal but England Athletics lawyers contacted him on 6 October and said that it had been unsuccessful.
"They basically explained that just running the qualifying time does not justify your selection and they didn't really go into any details about any points I'd raised in my appeal," Mellor said.
"It just felt like a copy and pasted email.
"We dedicate our lives to it and work so hard for it and to get it taken away from you like this is really, really upsetting."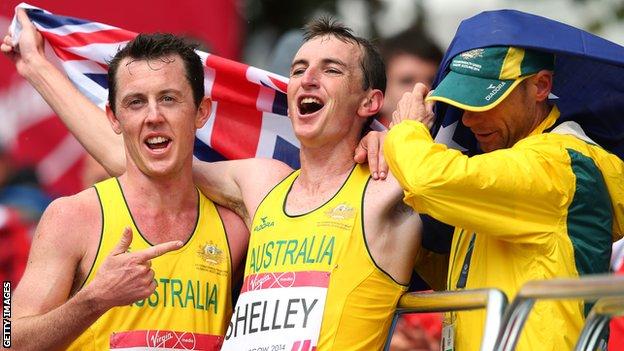 England Athletics: 'We could only pick 75 athletes'
England Athletics team leader Martin Rush told the BBC: "We could only pick 75 athletes, which was our allocation for this Games plus our Para-athletes, meaning the selection panel had a finite number of spaces to allocate across a rich pool of talent.
"Inevitably there will be some talented athletes who have performed very well yet will be disappointed not to have been selected.
"We had to make some very difficult decisions in applying the selection criteria. I'm confident that the athletes we have selected will do Team England and the country proud on the Gold Coast next year."
Mellor tweeted about his non-selection, which prompted over a hundred comments from people outraged by it.
Mellor was the only male English athlete to run the qualifying time.
"If every country adopted the mindset that they only took medal contenders to the championships, the Games would suffer because you'd only have three competitors in each event. And that's not what the Commonwealth Games is about," he said.
In September, England Athletics announced a new marathon initiative that it says will "support coaches and athletes with the aim of significantly raising the depth of performance at this event".
England Athletics aims to have "five English men inside 2:14" by the 2022 Commonwealth Games.
"What's going to happen in 2022 if five guys get the time - are you going to select any of those? It doesn't send out a very good message," Mellor said.
"I've given up everything for it. It's all been geared up to running the qualifying time which is what I went out and did."
The Liverpool Harrier works over 20 hour per week alongside his training, which includes running 110 miles most weeks.
His time in the Berlin Marathon last month would have also been fast enough to take him to the IAAF World Championships this year.
"I want to run to compete in major championships and represent my country," Mellor said.
"We need to stop this sort of thing because it's happened before. The selection policies need to be clearer."
The England Athletics team of 75 is the largest party it has ever sent to an overseas event.
In 2016, Alison Leonard criticised UK Athletics after she was not selected for the Rio Olympics, despite running the qualifying standard.
She was also told she was not a medal contender.
Mellor has had no further communication with England Athletics, and his coach has been unsuccessful so far in an attempt to access the minutes from the meeting where the appeal was discussed.
About 600 athletes and staff will represent the nation across 18 sports, including 38 Para-medal events, on Australia's Gold Coast.