Molly Caudery: How England's youngest Gold Coast 2018 athlete heard about selection
By Brent Pilnick
BBC Sport
Last updated on .From the section Athletics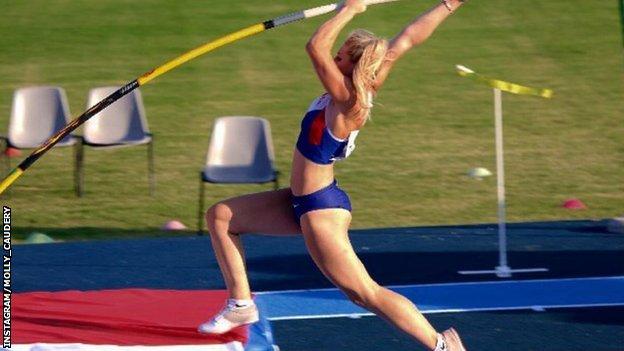 Molly Caudery celebrates her 18th birthday on 17 March 2018 - a day later she will be heading to Australia as the youngest member of England's athletics team at the Commonwealth Games.
The 17-year-old pole-vaulter got the news at college while studying for a sports science diploma in Truro.
"I said to my teacher 'I'm expecting a call today, it might be great news or it might be absolutely awful news'.
"I got the phone call and I was jumping up and down in the bathroom because I had to leave my class to take it."
The call-up to the England team caps an incredible year for the teenager from Illogan, a small village outside Redruth in west Cornwall.
International debut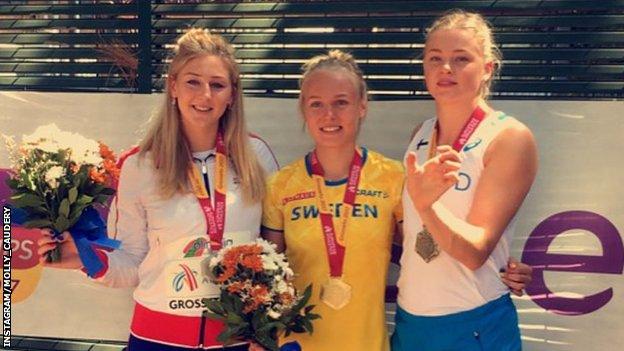 She came second in her first international meet - the European Under-20 Championships in Italy this summer - having won the national junior title earlier in the year.
"I always said 'I really want to go to the Olympics' even when I was five or six when I first started gymnastics," she told BBC Sport.
"I quit that and started pole vaulting and I still really wanted to go to the Olympics.
"I never thought of it as much more than a dream and then I went to the Europeans, came second despite being two years younger than the field, and the dream starts to become a reality.
American dream
Caudery's coached by her father Stuart and trains at the Carn Brea centre in Redruth - but she will soon leave to further her career.
Speaking from Florida as she tours universities in the United States, Caudery is hoping to compete on the prestigious NCAA college circuit.
"Just being in the United States would give me huge opportunities," she enthuses after some time at Florida State, before heading north to Kentucky.
"The facilities would bring me on - where I am in Cornwall we don't have many facilities and the NCAA support the athletes so much.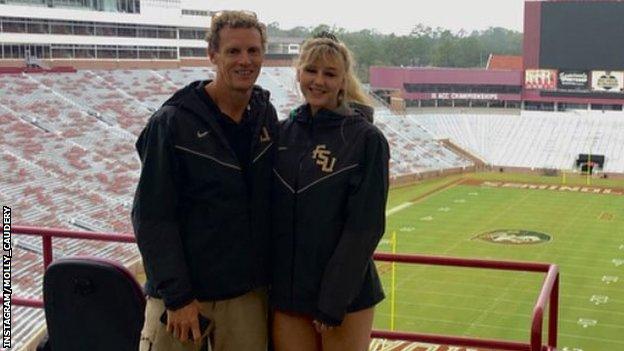 "If I was in the USA and I had my national championships at home they'd have the money to fly me home for those championships and support me through, not just the NCCA championships and the collegiate meets, but my home meets as well.
"I'm aspiring to go to the Olympics and World Championships so they'll be supporting me through that."
Caudery's journey to the biggest stage in athletics starts in Australia next March, and she says the Commonwealth Games are the perfect place to learn about competing at big events.
"For it being my first experience it's going to be incredible.
"It's not as big as the World Championships or the Olympics, but the crowds will still be huge and it'll be my biggest crowd ever.
"The European juniors were brilliant and really good experience, but this is going to be on a whole new level and I'm really excited to be part of the team - I might even be be a bit star-struck."