Athletics: Andy Vernon explains decision to finish on track in 2018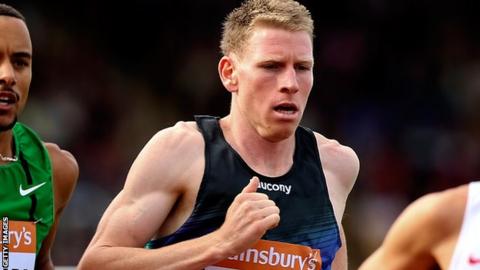 Long-distance runner Andy Vernon says his "lack of raw pace" is behind his decision to switch from the track to the road after next season.
Vernon has been named in the 10,000m for England's Commonwealth Games athletics team in April.
"It's natural progression that's behind the decision really," the 31-year-old from Fareham told BBC Radio Solent.
"I'm definitely starting to slow down on the track and I haven't got that quick turn of pace any more."
Injury and selection permitting, Vernon will follow-up his participation in the Commonwealth Games on Australia's Gold Coast with a final track appearance in August's European Championship in Berlin.
"I'm definitely slowing down a little bit in terms of raw pace," he said. "I've noticed now at the end of races, I can't run those 54-53 second last laps that I used to be able to.
"That in turn slows down your overall pace in a race and you don't want to be in that position if you want to compete."
Vernon, who was left out of Great Britain's squad for August's World Championships in London, will completely cut his ties with the track before switching to the road rather than combining both.
"The target is to enter marathons around this time of the year in 2018, New York in mid-November comes to mind," he revealed.
"The later in the year the better really so as to give myself more time to prepare."