Greg Rutherford: Olympic gold medallist unsure about fitness for Tokyo 2020
Last updated on .From the section Athletics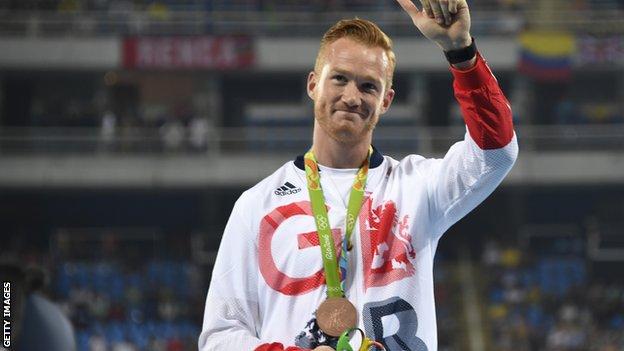 London 2012 long jump gold medallist Greg Rutherford says he is unsure whether he will be able to compete at the Tokyo Olympics in 2020.
"If I can still win major medals then I will go on as long as my body is able to do that," he told BBC Radio 5 live.
"But I'm not 25. I'm looking at a couple of years at most."
Asked whether that ruled him out of taking part in the Olympics in three years' time the Briton replied: "It's all going to be very dependent on how my body responds."
He told The Friday Sports Panel: "I've put an awful lot into it to get to the level that I have done.
"If my body is telling me I can't do it anymore, I will jump ship because I don't just want to be that guy who was once good at the sport and is now just there, and all these guys are laughing at you because you're just the old man that's part of the team.
"Sadly you find, especially in track and field, it's very difficult for people to switch off and they end up probably going on maybe two or three years longer than they should've done and then people start to forget the good periods that you had."
Having now recovered from an ankle injury, Rutherford was named in England's squad for the 2018 Commonwealth Games in Australia from 4-15 April.
But beyond that, he said he had worries about the future.
"It is always a huge concern because fundamentally it's how you pay the bills, it's how you live. I have a young family as well that I have to think about.
"I've always known that at some point obviously my career will come to an end. I am getting older, I'm about to turn 31 now, and in terms of track and field that's getting on a bit."