O'Hanlon becomes Irish marathon champion after Sittuk is stripped of title
Last updated on .From the section Athletics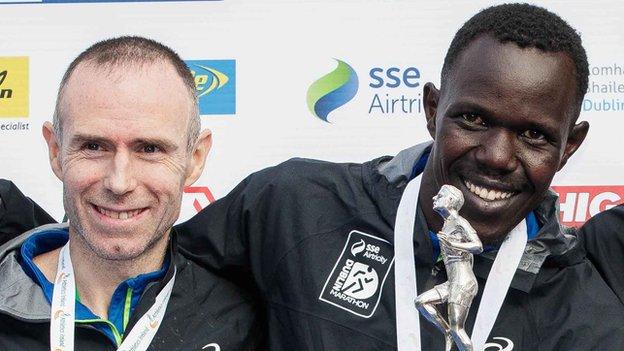 Gary O'Hanlon from Dundalk has been declared Irish Marathon champion - three days after thinking he has lost out to Freddy Sittuk in Dublin.
Sittuk was stripped of the title after it emerged he did did meet the criteria to qualify under the residency rule.
Before Sunday's event, Kenyan Sittuk had been deemed eligible for the national title by his club Raheny.
But it was later found Sittuk had not resided in Ireland for the required unbroken six months before the race.
The championship is staged as part of the annual Dublin Marathon, with the best-placed Irish finisher becoming champion.
Organisers said the residency eligibility for the National Championship had worked well in the past.
But they admitted the fact that 43-year-old O'Hanlon did not receive his gold medal in Dublin on Sunday was regrettable.
Immediately after the race, O'Hanlon, who works as a personal trainer, thought he had become Irish champion, as he was unaware Sittuk was in contention for the title.
Sittuk finished fourth overall in the men's race, with O'Hanlon 11th in a personal best time of 2:18.52.