Frankie Fredericks charged with corruption by French court
Last updated on .From the section Athletics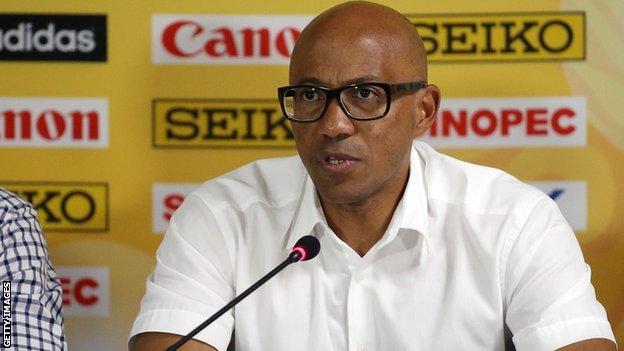 Four-time Olympic silver medallist Frankie Fredericks has been charged with money laundering and corruption by the French authorities.
The charges were brought by a judge who is investigating allegations of vote-buying in international sport.
Fredericks, 50, was accused of accepting a bribe of $299,300 (£230,000) from the son of ex-IAAF president Lamine Diack on the day Rio won the vote to host the 2016 Olympics.
He claims the money was legitimate payment for consultancy and promotional work for athletics' governing body.
Namibian Fredericks, a member of the IAAF council and a prominent figure within the International Olympic Committee (IOC), denies that it was linked to the Olympic bid.
An IOC spokesperson said: "We have just been informed of the decision by the French judge.
"[The chief ethics and compliance officer] Paquerette Girard Zappelli will look into the file and report to the ethics commission, which is meeting on Monday.
"Like with any procedure, the right to be heard has to be respected."
Fredericks won Olympic silver medals in the 100m and 200m at both Barcelona 1992 and Atlanta 1996. He also won gold in the 200m at the World Championships in 1993.
Fredericks was the chair of the 2024 Olympic bid evaluation committee when the allegations were made, but stepped down in March following the accusations.
He also left his position in the IAAF task force, which was responsible for evaluating Russia's return to the sport after its doping scandals.
He has been provisionally suspended from the IAAF since July, when the organisation's Athletic Integrity Unit opened an investigation into the matter.