Russian doping: Russia athletes remain suspended by IAAF
Last updated on .From the section Athletics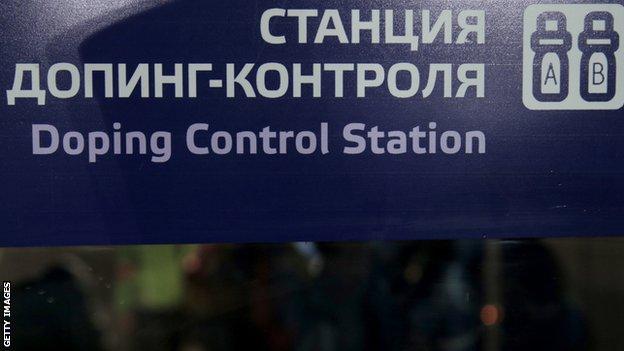 Russian athletes will remain banned from international competition after the IAAF said the country had not yet done enough to clamp down on doping.
The decision comes before December's International Olympic Committee meeting over the country's participation at the 2018 Winter Olympics in South Korea.
Some Russians can compete as neutrals if they satisfy testing criteria.
Russia apologised over the doping scandal uncovered by the McLaren report for the first time in August.
At the time, Rune Andersen - the head of the IAAF team examining the issue - said a November reinstatement was "in Russia's hands", by which time the country was expected to have met reforms set out by the World Anti-Doping Agency (Wada).
However, on Sunday he said "several key [milestones] remain outstanding".
The Norwegian added that the reinstatement of Russia's anti-doping agency Rusada as a "fully independent and code-compliant" body by Wada was a key condition.
Russia were stripped of two golds and a silver from the 2014 Winter Olympics after doping violations on Friday.
The president of Russia's bobsleigh federation Aleksandr Zubkov, 43, who won gold in the two-man and four-man event, has been disqualified.
Sochi 2014 silver medallist Olga Fatkulina and Alexander Rumyantsev, both speed skaters, and bobsleigher Olga Stulneva have had their results voided.
Russia's deputy prime minister Vitaly Mutko said the country were not to blame for the scandal which tarnished the 2014 Winter Olympics and they are the victim of an attempted "brainwashing".
The McLaren report, commissioned by Wada, detailed evidence of an "institutionalised and disciplined medal-winning conspiracy" that operated in Russia between 2011 and 2015.
More than 1,000 Russian athletes - including Olympic medallists - were said to have benefited.
As a consequence, Wada recommended banning all Russian athletes from competing at the 2016 Rio Olympics, but the International Olympic Committee ruled that individual sporting federations should decide.
The IAAF was the only governing body to enforce a blanket ban on Russian athletes.