London Marathon: Eliud Kipchoge to take on Mo Farah in 2018
Last updated on .From the section Athletics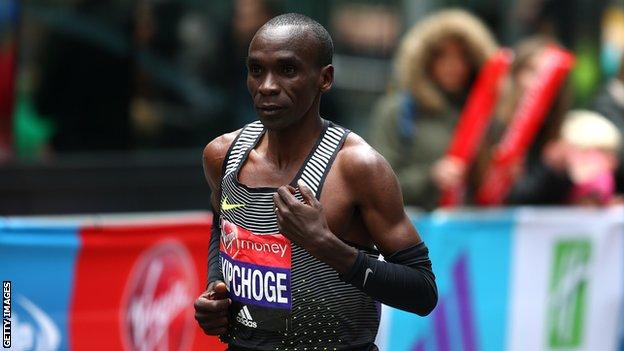 Olympic champion Eliud Kipchoge says he will take Mo Farah's challenge at the London Marathon "very seriously".
Kipchoge, 33, won the event in 2015 and 2016, and will compete again in 2018.
Farah has run two London Marathons but April's race will be his first since switching focus from a track career in which he won four Olympic and six world titles over 5,000m and 10,000m.
"He's a tough and respectable athlete," Kipchoge told BBC Sport. "I think he will be successful immediately."
"I'll be taking Mo Farah very seriously. He's a very high profile person and I can say I'm respecting him and treating him with total seriousness. He'll be a big challenge."
Farah, 34, pulled out as planned at the halfway mark in the 2013 London Marathon and finished eighth in two hours, eight minutes, 21 seconds, in 2014.
Kipchoge won a world title over 5,000m on the track in 2003 and believes Farah's pedigree as a six-time world champion will lead to a smooth transition now that road events are a focus.
"It does take time to make that switch but I'm sure Mo will be successful," added Kipchoge. "It won't take long. Mo Farah is serious. I believe if you plan and prepare well, winning and success can come."
Kipchoge still eyeing sub-two
At the 2016 London Marathon Kipchoge finished eight seconds off Dennis Kimetto's official world record of two hours, two minutes and 57 seconds, set in 2014.
"I came so close to breaking the world record in 2016 and it is natural for anyone in that situation to think of what might have been," he added.
"But that race gave me the confidence to go on and win the Olympic title in Rio and run so well throughout 2017."
Earlier this year, Kipchoge was part of a project which attempted to deliver the first sub-two-hour marathon when he missed the target by just 26 seconds in an unratified race.
Asked if he would rather break two hours or claim the official world record he said: "I would choose breaking two. No human has ever dared try. It's a big inspiration to the whole world. The world record everybody wants to break, but nobody has dared run under two hours."