Russian doping: London Olympics retesting results in two more positive tests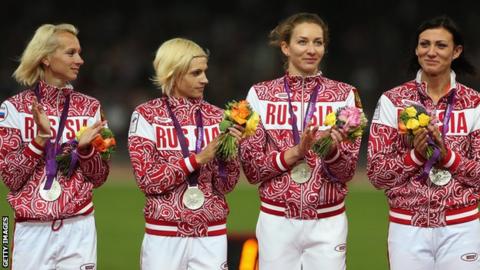 Two more Russian athletes have been found guilty of doping following the retesting of their samples from the London 2012 Olympics.
Yulia Gushchina was part of the women's 4x400m relay team that won silver, also placing 15th in the 400m event.
Russia was stripped of that medal in February, following Antonina Krivoshapka's positive test.
Anna Nazarova, who was fifth in the women's long jump in London, was also found to have returned a positive test.
The International Olympic Committee (IOC) said it would be retesting all Russian samples from the Games following the publication - in December 2016 - of the McLaren report, which said Russian athletes benefited from a state-sponsored doping programme between 2011 and 2015.
That process has now been concluded, with 226 samples reanalysed and 21 sanctions in total.
The IOC has also been investigating claims of doping at the 2014 Winter Olympics in Sochi, Russia.
Since 1 November, it has suspended a further 19 Russian athletes from the Olympics for life.
It is also set to rule on whether Russia will be allowed to compete at the 2018 Winter Olympics in Pyeongchang, South Korea, which begin on 9 February.
A decision will be announced at its next meeting, scheduled for 5 December.
As a result of Russia's disqualification from the women's 4x400m relay in London, Jamaica moved up to the silver-medal position and Ukraine took bronze. The United States won gold.
Britain's team of Shana Cox, Lee McConnell, Eilidh Child and Christine Ohuruogu were moved up to fourth, having finished fifth.