European Cross Country Championships: Britain top medal table with five golds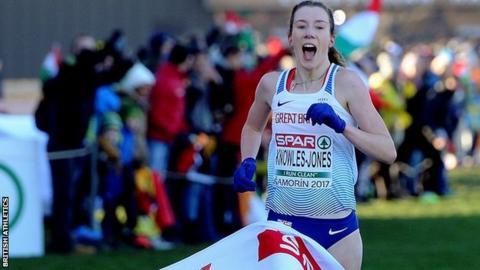 European Cross Country Championships
Watch highlights on Monday at 00:00-01:05 on BBC Two.
Great Britain topped the medal table at the European Cross Country Championships in Samorin, Slovakia.
The team won five gold and four bronze, two more medals than Turkey in second.
Britain took team gold in the women's senior race, the under-20 and under-23 women's races and senior mixed relay.
There was an individual gold for Harriet Knowles-Jones in the under-20 race, Andrew Butchart took bronze in the men's senior race, with Jess Judd third in the under-23 women's race.
Britain also took bronze in the men's senior race and the under-23 men's race.
Knowles-Jones started Britain's haul to complete her set of under-20 individual medals, after silver in 2015 and bronze in 2016.
"I've completed the set so I can't ask for any more," the 19-year-old said.
"My mum was crying as I crossed the line, and I was almost crying, it's an amazing feeling. I was chuffed for her to see it; she comes out to pretty much every race."
With the under-20 and under-23 women's teams winning gold earlier, the senior women completed the trio of team medals, securing gold with five athletes within the top 15.
Charlotte Taylor crossed in sixth, team captain Emelia Gorecka, Gemma Steel, and Steph Twell finished eighth, ninth and 10th respectively, while Lily Partridge was 15th and Elle Vernon 48th.
Butchart took on the early pace in the men's race but was caught with two laps to go. However, he held on for bronze, Ben Connor came sixth and Tom Lancashire 26th to secure a team medal, but Dewi Griffiths failed to finish because of cramp.
"The last lap was frustrating, once they were gone they were gone and on this sort of course there is no way of catching them," said Butchart.
Britain finished with gold in the inaugural senior mixed relay with a team of Melissa Courtney, Cameron Boyek, Sarah McDonald and Tom Marshall.