World and Para-athletics Championships bring in more than £107m to London
Last updated on .From the section Athletics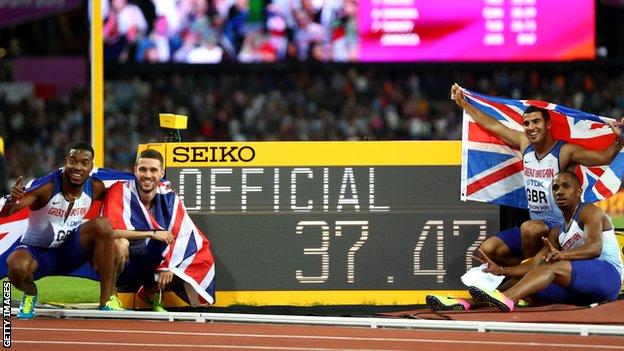 The city of London benefitted from £107m of extra income as a direct result of hosting the World and Para-athletics Championships.
More than a million people bought tickets to visit London Stadium as the capital became the first city to host both events in the same year.
Mayor Sadiq Khan said London 2017 had "provided a lifetime of memories".
He added that "London is, without question, the sporting capital of the world".
Among the highlights of the World Championships, which directly generated more than £79m for London's economy, was a gold medal for Great Britain's 4x100m men's team in what was Jamaican superstar Usain Bolt's final race.
Mo Farah, who was also racing for the final time on the track, won 5,000m silver as he was beaten in a global final for the first time in six years.
Jonnie Peacock, who came third in Sunday night's BBC Sports Personality of the Year which Farah won, claimed two golds in the Para-athletic Championships.
The direct economic impact of that championships was measured at marginally more than £28m.
In a report led by event management company The Sports Consultancy, figures show a £2.1m investment was made into grassroots athletics and running in London as part of hosting the Championships.
Just less than half of people asked in the survey said they had been inspired to do more sport or active recreation after attending the events.
IAAF president Lord Coe added: "London was a potent advertisement of the power and passion that athletics ignites and the strong and exciting future that awaits it when our sport delivers it right."
UK Sport chief executive Liz Nicholl explained the success was a part of plans to make the UK the centre of sporting events of the future.
"Our own extensive research demonstrates that hosting major events provides significant social and economic benefits," said Nicholl.
"We are delighted this new study shows this to also be the case with the World Para-athletics Championships and IAAF World Championships."