Northern Ireland's Games track & field athletes attend warm-weather camps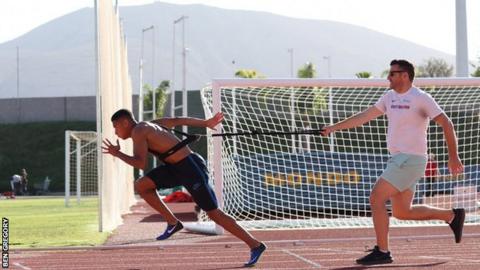 The majority of Northern Ireland's Commonwealth Games track and field hopefuls are taking part in warm-weather training camps this month.
Leon Reid, Kate O'Connor, Ben Reynolds, Adam McMullen and Adam Kirk-Smith are now in Tenerife after attending an initial Athletics NI camp last month.
The daily temperatures in and around 23 centigrade in Tenerife offer ideal conditions for the athletes.
A further training camp takes place in southern Spain later this month.
The Tenerife group are joined by Athletics NI coaches Tom Reynolds and Laura Kerr with physiotherapy and strength and conditioning support being provided by Kerry Kirk and Robbie Bremner from the Sport NI Sports Institute.
Reid is working with his personal coach James Hillier on the trip whilst Tomaz Plibersek has travelled to support steeplechaser Kirk-Smith with Michael O'Connor guiding heptathlete O'Connor.
Paralympic Champion Jason Smyth is also availing of the warm-weather training opportunity and sharing his major championship experience whilst in Tenerife.
Next week, a five athletes will depart for Athletics NI's Endurance Camp in Murcia.
"Both these camps provide a further opportunity for Team NI athletes to refine their individual training and performance behaviours in preparation for the holding camp in Australia and the 2018 Commonwealth Games," said Athletic NI's director of Coaching and Athlete development Jackie Newton.