Kenenisa Bekele to face Mo Farah and Eilud Kipchoge in London Marathon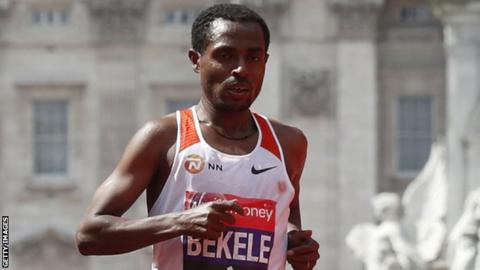 Ethiopia's Kenenisa Bekele will race Britain's Mo Farah in the London Marathon in April.
Bekele is a triple Olympic champion on the track and was second behind Kenyan Daniel Wanjiru in last year's race.
"I am thrilled to be returning to London for the third year in a row and would love to go one better than last year and win the race," said Bekele.
"Once again London has brought the best distance runners in the world together so I know it will not be easy."
Kenya's Eliud Kipchoge, the reigning Olympic marathon champion, who won the event in 2015 and 2016, will also be competing in London.
Bekele, Farah and Kipchoge have won a combined eight Olympic gold medals and 12 World Championship gold medals between them.
"This is a mouth-watering prospect," said event director Hugh Brasher.
"Sir Mo, Eliud and Kenenisa could all put forward a persuasive case for being the greatest of all time and now they meet for the first time over the marathon distance."