Zharnel Hughes: British sprinter confronted and shots fired by gunman in Jamaica
Last updated on .From the section Athletics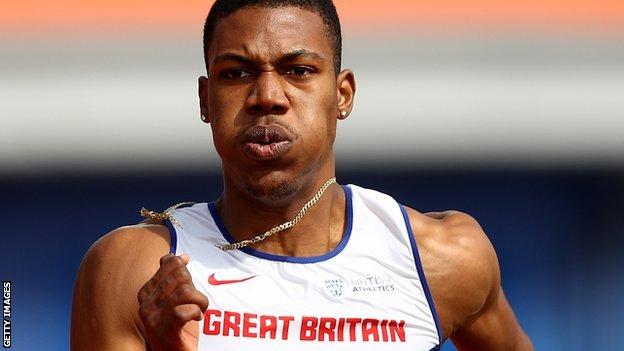 British sprinter Zharnel Hughes had a gun pointed in his face in an attempted armed robbery which led to shots being fired, his manager has told BBC Sport.
The incident happened in a car park near Kingston, Jamaica, where the 22-year-old trains with a local club.
Hughes' manager Norman Peart said the athlete was unhurt, ran off and then completed his training session, after the robber had demanded his phone.
"He was shaken up, but he trained afterwards," Peart told BBC Sport.
"Nothing was taken and police investigations are continuing."

He said there was a brief exchange of gunfire between the robber and a licensed firearms holder who was at the venue, but there were no injuries.
Hughes was born on the British overseas territory of Anguilla, but has held a British passport since birth and was declared eligible for Team GB in 2015.
He finished fifth behind gold medallist Usain Bolt in the 200m at the World Championships later that year, having just been beaten by the world's fastest man at a Diamond League meeting in New York.
Hughes, who had been with Bolt earlier in the day, said he was at his car at the University of the West Indies Usain Bolt Track in Mona, St Andrew, when a gunman approached him on Tuesday evening.
"I was putting on my sneakers at my trunk and this guy just came up pointing a gun in my face. He asked me for my phone and I ran off and the guy opened fire," he told the Jamaica Gleaner newspaper.
Peart said the licensed firearm holder saw what was happening, surprised the robber, and shots were fired.
"There was an exchange of gunfire but nothing in the direction of the athletes," he said.
"It was unfortunate that it happened. I'm sure the university will take massive steps to beef up security.
"Zharnel doesn't want to talk about it now. He wants to put it behind him and have a good season."
The BBC has asked police in Jamaica for a comment.