World Indoor Athletics Championships: Lee McConnell hails mature performance of Laura Muir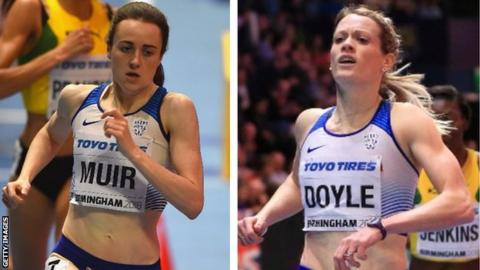 Laura Muir is coming of age on the global stage after two podium finishes at the World Indoor Athletics Championships, according to former athlete Lee McConnell.
Muir, 24, earned bronze in the women's 3,000m, then took silver in the 1500m - her first medals at world level.
McConnell - a Commonwealth Games silver medallist in the 400m - believes Muir's growing maturity is telling.
"Tactically, she's got these races right," the 39-year-old said.
"That's something you learn through experience.
"She's been making the finals, and she's just been missing out, just outside the medals. This time she's got her tactics right and it's just wonderful to see."
After her 3,000m bronze on Friday evening, Muir produced a stirring display 24 hours later, clocking a time of four minutes 06.23 seconds to take runners-up spot in the 1500m.
"It was wonderful," McConnell told BBC Scotland of Muir's performance.
"There were a couple of points where she was maybe not quite in the position she wanted, but there was no panic, she just manoeuvred herself into the right position.
"I suppose a lot of that comes from the confidence she gained by winning the bronze in the 3,000m earlier.
"You've just ran a 3,000m, and it was a superb 3,000m. The big thing that's going to tire them is they picked the pace up; it got quicker and quicker. That last 1500m [in the 3,000m] was as quick as what they run in an individual 1500m.
"They're running on tired legs, so to come back out and run the heat and final of a 1500m is really tough to do, but she executed it perfectly."
Doyle 'seized her opportunity'
Scotland's Eilidh Doyle claimed her first individual world medal with bronze in McConnell's former event, the 400m.
It came in somewhat dramatic circumstances, with 31-year-old Doyle earning a place in Saturday's final only after a rival was disqualified in her semi-final.
"Again, tactically she got it spot on," McConnell said of Doyle's final display.
"In the 400m indoors you really need to be getting to the front after the break 200m, and Eilidh did that. She really fought to hold her space and her line and remain in second place at the break.
"She held off one of the Americans, which meant the American had to keep running wide and it wasn't until the home straight that the American managed to go past Eilidh.
"She just seized an opportunity that was given to her and mentally she obviously dealt with it very well."