Lord Coe gave 'misleading' answers over doping allegations, says report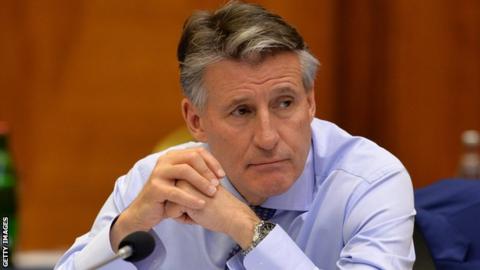 Lord Coe gave "misleading" answers to parliament over when he first found out about corruption and doping allegations in athletics, a report by MPs says.
The president of world athletics' governing body, the IAAF, told a select committee in December 2015 he was "not aware" of specific allegations of corruption in Russian athletics before they were made in a German TV documentary in December 2014.
Coe said in an email to the IAAF ethics commission in August 2014: "I have now been made aware of the allegations."
Monday's Digital, Culture, Media and Sport (DCMS) select committee report said "it stretched credibility to believe" that Coe was not aware "at least in general terms" of allegations the ethics commission had been asked to investigate before he said he was.
The BBC's Panorama programme revealed in June 2016 that Coe was alerted to the scandal by former world 10,000m record holder David Bedford via email in August 2014 when Coe was vice-president of the International Association of Athletics Federations.
The report, 'Combatting Doping in Sport', states that when Coe appeared before the committee he "sought to distance himself from any knowledge of the allegations of doping in Russian athletics" before the broadcast of the ARD documentary.
It added that Coe's answers "about this were misleading," even if, as Coe told Panorama, he did not read the email or open the attachments sent to him by Bedford.
"These are matters of the greatest seriousness and affect the reputation of both the IAAF and Lord Coe," the report said.
Coe has denied there is any discrepancy between his evidence and what the emails say he knew.
Former London Marathon race director Bedford was credited by the committee "for his stance and evidence in shedding more light on this sad state of affairs".
What did Coe know and when?
Following a telephone call with Coe in August 2014, Bedford sent the two-time Olympic gold medallist an email containing several attachments detailing allegations from Russian marathon champion Liliya Shobukhova that she had paid almost half a million euros to cover up positive doping tests after being blackmailed by senior IAAF officials.
Coe told Panorama he had not opened the attachments and had simply forwarded the email on to the IAAF's ethics committee. As a result he claims he had not been aware of the detail of the corruption allegations and therefore had not misled parliament.
He later responded to requests from MPs to release missing correspondence between him and Michael Beloff, chair of the IAAF ethics commission.
In an email to Beloff, dated 14 August 2014, Coe said: "I have in the last couple of days received copied documentation of serious allegations being made by and on behalf of the Russian female athlete Shobukhova from David Bedford.
"The purpose of this note is of course to advise you that I have now been made aware of the allegations."
The committee said it wants Lord Coe to "succeed in his difficult task of eliminating doping in athletics" but added to achieve this "he and the IAAF must encourage, not criticise, efforts by others to help".
The report also states:
The IAAF's reasons for not publishing the Tubingen study were "unconvincing"
Concern that blocking the study indicates "a lack of transparency and, worse, an apparent desire to suppress revelations about doping in sport"
Coe needs to ensure the IAAF act "resolutely" to tackle doping and "restore its tattered reputation"
'Shock' at Farah injection
The third section of the DCMS report focused on UK Athletics (UKA), with the governing body also criticised for poor record keeping.
The committee said it was "shocked" that former UKA chief medical officer Dr Robin Chakraverty gave an injection of L-carnitine to Sir Mo Farah before the 2014 London Marathon but did not record the dose on the four-time Olympic champion's medical records.
L-carnitine is a legal supplement, provided athletes do not exceed 50ml every six hours.
Dr Chakraverty, who is now the England men's football team's lead doctor, told the committee that he gave Farah a dose of 2.7 grams via an injection. He said the purposes of a dose that size was to "use supplements to help performance or to protect health. In this instance it was to help performance".
He added it was "the first and only time that we ever used L-carnitine".
Dr Chakraverty also said he failed to record the dosage because of his workload, adding "it can get forgotten because you have all the other things to do".
Ed Warner, the UKA chief executive at the time, told the committee that the lack of record keeping by Dr Chakraverty was "inexcusable".
The DCMS report said: "UK Athletics has a responsibility to ensure that proper records are kept for its athletes, and the committee is pleased to note the progress that has been made since."
Analysis
Mark Daly, BBC Scotland and Panorama
When Panorama first aired allegations that Lord Coe may have misled parliament over what he knew and when about the Russian doping scandal it was met first with silence, then with a qualified denial.
Yes, he had received the email from David Bedford whilst vice-president of the IAAF. But no, he hadn't opened the attachments which contained details of the single worst corruption scandal in the history of world athletics. Call it a "lack of curiosity," his PR said.
After Panorama aired in June 2016, Coe was invited to re-attend parliament to explain, but declined to do so citing schedules, preferring to send letters instead. He may be rueing that decision, as the DCMS committee has not spared him.
It simply did not buy his account; it "stretches credibility" he was not aware of the general allegations. In the future, the committee wishes to see more "curiosity and concern when presented with compelling, important evidence".
Coe has attracted praise for his tough stance on Russian doping and is generally held to be taking the IAAF in the right direction, but this will be bruising for him.
What athletics needs to recover its credibility is leadership and transparency - this will be seen as another step backwards.