Russia doping: Country still suspended by IAAF and could face permanent ban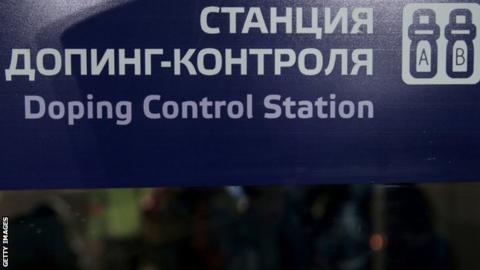 Russia remains suspended from international athletics, and the sport's governing body says it could permanently exclude the country if key doping reforms are not met soon.
The IAAF first banned Russia in November 2015 over evidence of state-sponsored doping.
The country was expected to have met reforms set out by the World Anti-Doping Agency (Wada) by November 2017.
But the IAAF says many requirements have still not been met.
Evidence of state involvement in the systemic doping of Russian athletes was compiled in the 2016 McLaren report.
Its conclusions - and that of a later International Olympic Committee (IOC) report - led to the country being banned from February's Winter Olympics.
Russia has repeatedly denied running a state-sponsored doping programme.
Rune Andersen, chairman of the IAAF taskforce looking into Russian doping, said because the country had "still not acknowledged the institutional doping scheme [that was] uncovered" there can be "no comfort it will not be repeated".
He said the taskforce had recommended that Russia should not be reinstated, and the IAAF council had accepted.
He added if Russia did not make progress towards fulfilling Wada's reforms by the council's next meeting in July, "further measures should be discussed".
This includes "withdrawing permission for Russian athletes to compete as neutrals in international competition" and "taking the steps necessary to recommend that Rusaf [Russia's athletics federation] be expelled from IAAF membership," he said.
"The taskforce will now call for an urgent meeting with Rusaf and the country's ministry of sport to press on them the need to address these remaining issues without further delay," he added.
IAAF president Lord Coe said the prospect of permanent exclusion was "not sitting here as a threat".
He added: "It is there because we want this situation resolved. It is always worth remembering that the criteria is not unilateral - it was agreed with the Russian federation.
"We want those athletes back in the fold, and the world needs to know those athletes are in a system of confidence and trust."
Despite Russia's ban from February's Games in Pyeongchang, 168 Russians competed as neutrals in South Korea, and two failed drugs tests.
After the Games, Russia's Olympic membership was restored by the IOC.
The IOC planned to reinstate Russia after the Games - as long as there were no more failed tests - and it said all remaining samples were negative.
Several Russian athletes took part in last week's World Indoor Championships in Birmingham competing as neutrals.
Mariya Lasitskene won the women's high jump, while Danil Lysenko won the men's high jump.
New rules on hyperandrogenism
The IAAF has also decided to reinstate a reworked version of its rules on hyperandrogenism, banning female athletes with naturally high levels of the male sex hormone testosterone.
It claims such athletes - South Africa's Caster Semenya and Indian sprinter Dutee Chand are among those to have fallen foul of the rules - gain an unfair advantage.
However the rules were suspended by the Court of Arbitration for Sport in 2015 after claims they were unscientific and "biological racism".
Under the new rules, female runners competing between 400m and a mile must medically reduce their testosterone levels if they are over a set limit.
The new rules come into force on 1 November and the IAAF believes they are legally tight - but can always be revised if necessary.
Coe on 'misleading Parliament' claim
Lord Coe was also asked about an MPs' report which stated he had given "misleading" answers to a select committee hearing.
When appearing before the Digital, Culture, Media and Sport Committee last year, Coe had said he was "not aware" of specific allegations of corruption in Russian athletics before they were made in a German TV documentary in December 2014.
However, after seeing emails sent in August of that year, the committee said in report that "it stretched credibility to believe" Coe was not aware of allegations before he said he was.
Responding to that report on Tuesday, Coe said: "We've read the report and absorbed it and I did not mislead the committee."