Kathrine Switzer: Female pioneer to run in London 51 years after running Boston Marathon
Last updated on .From the section Athletics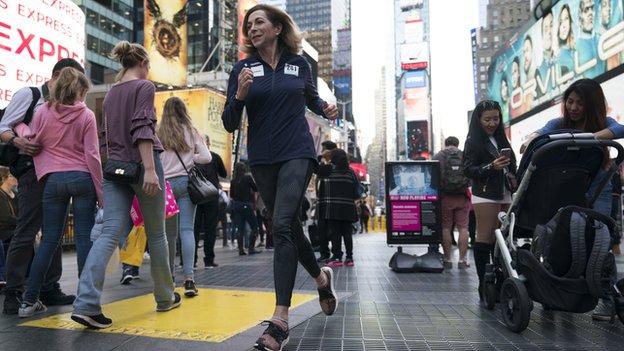 The first woman given an official number in the Boston Marathon will take part in this year's London race.
Women were barred from running the Boston race when Kathrine Switzer, now 71, challenged the ban in 1967.
Entering using her initials - and so disguising her gender - she became known worldwide when an official tried and failed to forcibly remove her from the course.
Switzer completed the 26.2-mile course in around four hours 20 minutes.
Her efforts dispelled the all-male tradition of marathon running at the time and proved that women could compete in a race of that length.
The American will run in London in April for the first time as the United Kingdom celebrates the suffrage movement which, 100 years ago, helped convince Parliament to agree that women should be allowed to vote.
"The streets of London have been an important part of women's running history as well as women's rights," said Switzer, who was involved in staging the Avon International Women's Marathon in the capital in 1980.
That event was used to convince the International Olympic Committee to sanction a women's marathon at the Los Angeles Games in 1984.
"Ever since then I've wanted to run it [the London Marathon] also, but have been too busy. Now is the time and I am so honoured and excited to be out there," Switzer added.
Switzer, who won the 1974 New York City Marathon, has been a tireless advocate for women's distance running, organising a global series of 400 women's races in 27 countries.
She has also advocated for women's sports participation throughout the world and has created "261 Fearless", a global non-profit movement that empowers women through running.
Switzer was inducted into the USA National Women's Hall of Fame in 2011 and will wear number 261 in London, the same number she wore in Boston in 1967.
The London Marathon takes place on Sunday, 22 April.