Laura Muir: British runner decides against working with Nike Oregon Project coach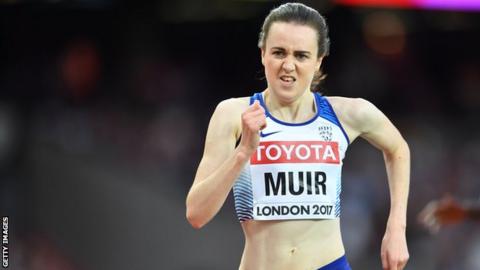 Britain's Laura Muir says "after some reflection" she has decided not to start working with a coach from the controversial Nike Oregon Project.
The 24-year-old middle-distance runner said earlier on Friday she would link up with David McHenry.
The project is led by Mo Farah's former coach Alberto Salazar, who is being probed by the US Anti-Doping Agency.
"I have no concerns about Dave McHenry and was hugely impressed when I met him," Scot Muir said later on Friday.
"But after some reflection we have decided not to start working with him as planned and not to pursue this relationship further."
Muir has previously said she does not speak to rival Genzebe Dibaba after her coach, Jama Aden, was arrested as part of an anti-doping investigation.
Aden denies any doping offences, while Ethiopian world champion Dibaba has always maintained she is clean.
Muir said she needed to "minimise distractions and stresses" to allow her to focus on athletics and her degree in veterinary medicine.
Muir, who won 1500m silver and 3,000m bronze at the World Indoor Championships in March, will continue to be coached by Andy Young.