Leon Reid: Sprinter must wait until July for more news on Ireland switch hopes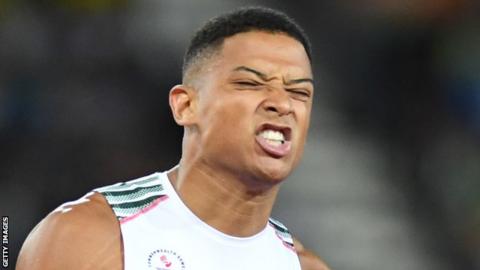 Northern Ireland's Commonwealth Games medallist Leon Reid looks likely to have to wait until July for further news on his application to be allowed to represent Ireland.
Reid, 23, earned a surprise 200m bronze at the Gold Coast Games but his hopes of switching allegiance from Britain to Ireland remain in limbo.
The IAAF halted all international transfers last year pending a review.
The world governing body's council is set to discuss the issue again in July.
That will be at the IAAF's council meeting in Buenos Aires when one of the proposals will be a recommendation from a review working group that there should be a "minimum three-year waiting period before an athlete may transfer to represent another member".
Reid last represented Great Britain in 2015
Bath-based Reid last represented Britain at the European Under-23 Championships in July 2015 when he won a 200m silver.
If the IAAF ruled that his transfer could start from that point, he would be eligible to represent Ireland at this year's European Championships in Berlin in August.
Reid wants to declare for Ireland in honour of his late Belfast-born biological mother.
The sprinter has maintained close contact with his Belfast-based relatives while he has further Irish connections with his adopted mother hailing from county Wexford.
Athletics Ireland's high performance director Paul McNamara told BBC Sport Northern Ireland on Tuesday that the Irish governing body have maintained "regular contact" with the IAAF over Reid's case.
"Obviously, we will be delighted if Leon gets the all-clear at that stage because he would hopefully be in a position to compete for us at the European Championships.
"But in advance of the IAAF council meeting in July, the situation remains unchanged from last summer."
Johnson wants IAAF to grant Reid Ireland switch
After Reid's surprise Commonwealth Games medal, US great Michael Johnson called on the IAAF to grant the sprinter's request to run for Ireland.
Last July, Reid wrote an open letter to IAAF president Lord Coe in a last-ditch attempt to be cleared to represent Ireland at the World Championships in London but the plea was unsuccessful.
In February 2017, the IAAF halted all international transfers, pending a review, because of concerns over the number of African athletes switching nationalities to countries such as Bahrain, Qatar and Turkey.
The review working group's recommendations will go before the IAAF council in Buenos Aires in July.
Reid crossed the line fourth in the Commonwealth Games 200m final but was promoted to the bronze medal after the disqualification of England's Zharnel Hughes for a lane infringement.
Hughes thought he had won the gold but was found to have transgressed in attempting to hold off eventual champion Trinidad & Tobago's Jereem Richards.