London Marathon weather: Sunday's race could be hottest on record
Last updated on .From the section Athletics
Date:
Sunday, 22 April
Start times (BST):
Elite wheelchair (08:55), World Para-athletics Marathon World Cup (09:00), Elite Women (09:15), Elite Men & Mass start (10:00)
Coverage:
Live on BBC TV, HD, Red Button, 5 live sports extra, BBC Radio London, online, mobile, the BBC Sport app and Connected TV
London Marathon organisers say they will send advice to runners this week, with forecasts suggesting Sunday's race could be the hottest on record.
Expected temperatures of up to 24C could surpass the 22.2C recorded in both 1996 and 2007.
Organisers told the BBC they have made contingency plans, but that it is too soon for an accurate prediction.
"We monitor the weather forecast for race day very closely," said Hugh Brasher, the marathon's event director.
"We have a number of contingency plans in place in case of hot weather and we will be sending advice to runners and spectators later in the week that will be proportionate to race day."
In 2007, organisers installed four run-through showers along the route and added an extra 2,600 bottles of water to the normal stock of 25,000 bottles at each station to help runners deal with the high temperatures.
"This year's London Marathon will end up being one of the warmest on record, potentially even the warmest," said BBC weather presenter Simon King. "Temperatures on Sunday are expected to reach 22-24°C with some strong April sunshine.
"The heat will no doubt cause issues for the runners, but I can offer the smallest of relief in that there is a small chance of a thunderstorm through the morning which will temporarily drop the temperature."
One runner died after collapsing at the 2007 race, and St John Ambulance said it tended to 5,032 people and 73 were sent to hospital for further treatment.
London Marathon chief executive Nick Bitel added: "It will be much warmer for most of our runners than what they have been used to, given the poor weather we've had in the build-up.
"They know they have to adjust their objectives, and that's the first piece of advice we are giving runners - don't think of this as being a personal best course if it is going to be that warm."
Don't get caught 'racing Scooby Doo'
Tom Bourton was among those taken to hospital that year, having collapsed mid-stride on mile 17 during his debut marathon.
The 40-year-old from Cardiff has since completed 11 marathons in aid of Cancer Research UK, but warned runners to prepare properly for the race and not get caught up in the occasion.
"I had trained well and was prepared for it, but on the day I was running with a friend who was quicker than me and got carried along," Bourton told BBC Sport.
"You don't want to let people overtake you. Somewhere in early stages, I saw a man in a Scooby Doo costume and decided that I should be going faster than him. Foolish."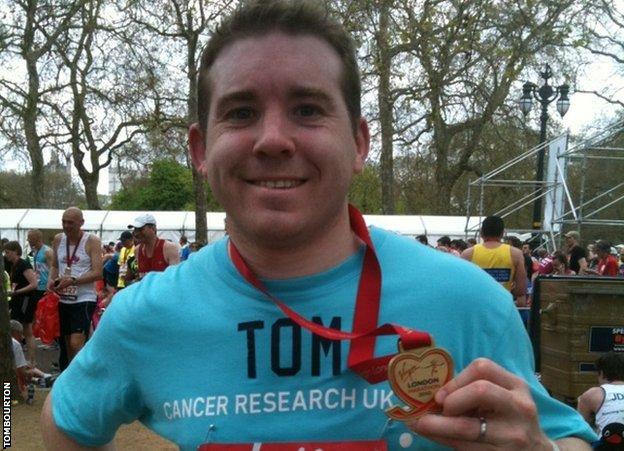 Bourton said he became delirious, waking up on the side of the road with other runners who had collapsed in the heat before being taken to a hospital outside the M25 for treatment.
"I remember closing my eyes for 10 seconds and thinking 'when I open them again, 10 yards will have gone by'," added Bourton, who recorded his memories of the event in his blog 'Mile 17'.
"I never thought there was an option where I would not finish.
"It was a horrendous day for my family and friends because they were at cheering points waiting for me and I was in a tent at mile 17."
Bourton recovered from his experience to complete his first marathon in Anglesey later that year, and has some advice for Sunday's race-goers.
"Keep an eye on the forecast and take appropriate precautions," he said. "Drink enough water, and make sure your emergency contact details are on the back of your number.
"Enjoy the day and take the cheers on board, but remember you still have to run the race - don't let them distract from what you have trained to do."