Stephen Scullion in line for European spot after big marathon PB in London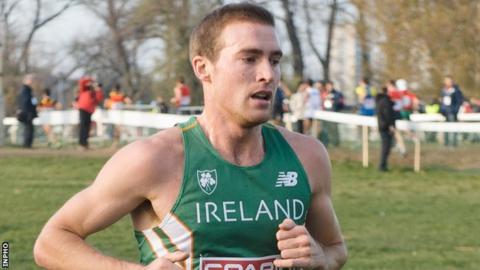 Belfast man Stephen Scullion has put himself in line for a European Championship place after running a big personal best at the London Marathon.
Scullion, 29, cut two minutes and four seconds off his previous best as his time of two hours, 15 minutes and 55 seconds left him 12th overall.
He was well inside Athletics Ireland's European Championship mark of 2:17:00.
Other Northern Irishman Paul Pollock and Kevin Seaward have already achieved the Berlin qualifying mark.
The London race was the final opportunity for Irish athletes to achieve a qualifying time for the marathon in Berlin with Sunday the closing date for selection.
Countries can select up to six athletes for the European Championship marathons and Ireland could have a full complement in the German capital with Mick Clohisey, Sergiu Ciobanu and Sean Hehir also having ducked under 2:17.00 during the qualification period.
Northern Ireland trio Laura Graham, Breege Connolly and Gladys Ganiel O'Neill have achieved Athletics Ireland's standard of 2:38.00 for the women's event so are also in line to compete in Berlin with six places again available per nation.
Clohisey is the fastest Irishman on the clock since January 2017 thanks to his 2:14.55 in Seville earlier this year.
Pollock ran 2:15.30 in Japan 14 months ago although his fitness may be a concern after he was forced to pull out of last weekend's Commonwealth Games marathon because of a foot injury.
Seaward finished a superb fourth in that race in Australia and achieved the European standard when he posted 2:15.50 in Berlin last September.
Ciobanu clocked 2:16.05 in Valencia last November while Hehir produced a time of 2:16.18 at last year's London Marathon.
Scullion's run continued his excellent 2018 season having taken 90 seconds off his half marathon personal best with a 63:16 time in the USA in January.
Scullion 'proud' of performance
Speaking on Twitter, Scullion said he was "proud of myself" after his London performance.
"That was hard work today and I doubted myself a few times out there," said the 29-year-old.
Scullion admitted that he wondered whether he was "too heavy" for Sunday's heat and that he considered dropping out and saving himself for better conditions in the Belfast Marathon in two weeks.
"That's running and it's a battle. That was real racing, bitter hotter than optimum. But I'm proud of myself. Always learning and adjusting from mistakes."
Newcastle athlete Eoghan Totten also joined Scullion in producing a fine London performance as he clocked 2:26.32 on his debut over the 26.2 mile event.
Kenya's Olympic champion Eliud Kipchoge took victory in 2:04.17 as he finished 32 seconds ahead of Ethiopia's Shura Kitata with Mo Farah setting a new British record of 2:06.21 to finish third.
Vivian Cheruiyot, who is coached by Donegal man Ricky Simms, won the women's race in 2:18.31.