European Championships 2018: Stephen Scullion selected in Ireland team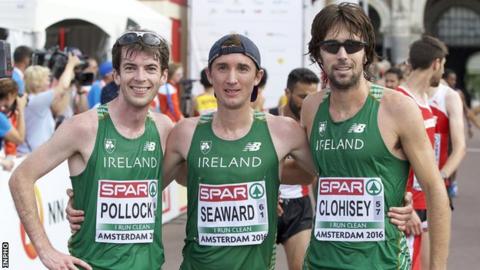 Six Northern Ireland athletes have been selected to represent Ireland in the marathons at this year's European Championships in Berlin.
Stephen Scullion joins Paul Pollock and Kevin Seaward in the Irish men's team after improving his PB to two hours, 15 minutes and 55 seconds in London.
North Belfast pair Gladys Ganiel and Breege Connolly join Kilkeel athlete Laura Graham in the women's selection.
The championships take place from 7-12 August.
Mick Clohisey, Sergiu Ciobana and Sean Hehir will link up with Scullion, Pollock and Seaward in the men's team with Lizzie Lee and Claire McCarthy also competing in the women's event.
Scullion, 29, cut two minutes and four seconds off his previous best with his London time which was comfortably inside Athletics Ireland's European Championship mark of 2:17:00.
Last Sunday was the closing date for marathon selection so the London race was the final opportunity for Irish athletes to achieve a qualifying time for the Berlin races, which will also include team competitions.
Countries can select up to six athletes for the European Championship marathons so the Irish men have a full complement in the German capital.
Athletics Ireland's standard for the women's event was 2:38.00.
Clohisey is the fastest Irishman on the clock since January 2017 thanks to his 2:14.55 in Seville earlier this year.
Pollock ran 2:15.30 in Japan 14 months ago and will hope to be able to regain his fitness after missing the recent Commonwealth Games marathon because of a foot injury.
Seaward finished a superb fourth in that race in Australia and achieved the European standard when he posted 2:15.50 in Berlin last September.
Ciobanu clocked 2:16.05 in Valencia last November while Hehir produced a time of 2:16.18 at last year's London Marathon.
Steady increase in standard
Athletics Ireland have announced the team selection over three months ahead of the games to allow the athletes to focus on peaking for the championships.
"We've seen a steady increase in the standard of Irish marathon running in recent years and it is significant to be in a position to select 11 athletes," said high performance director Paul McNamara.
"Both of these teams should be highly competitive in Berlin based on past results.
In 2014, the last edition of this event, we had no sub-2:17 performers start the men's race, while now we have six athletes comfortably inside that standard, while four of the five women selected have significant championship experience."