Lord Coe says new IAAF testosterone rules are appropriate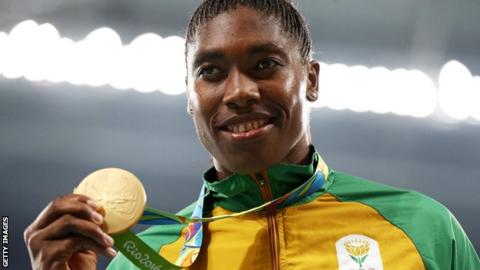 Athletics chief Lord Coe says controversial new rules around testosterone levels in female athletes are "appropriate for the sport".
The IAAF president said the regulations were clear and well researched.
Some athletes will have to take medication to race in track events from 400m up to the mile from November.
"The regulations are very clear and they are really the culmination of 15 years of work here, scientifically reviewed," he said.
Former marathon world champion Paula Radcliffe has said she supports new rules on the "minefield" issue of naturally high testosterone levels in women.
"There isn't a fair answer - there's no solution that is fair to everybody," the 44-year-old Briton said.
"It's just trying to make fairness out of a situation that is pretty much impossible."
South Africa's Olympic 800m champion Caster Semenya is one of the athletes who could be affected.
Athletics South Africa said on Thursday it would "challenge" the International Association of Athletics Federations (IAAF) on the new rules.
The country's governing body said in a statement it would go to the Court of Arbitration for Sport (Cas) if the IAAF did not change its stance.
Research commissioned by the IAAF in July 2017, after its previous rules on 'hyperandrogenism' were suspended by Cas for lack of evidence, found female athletes with high testosterone levels had a "competitive advantage".
Radcliffe told the Press Association: "To make it about Caster Semenya is completely unfair to her. Why should she be made the poster person for this?
"If this was one person we wouldn't be facing this issue. We'd just let it happen.
"It's the fact that it's not, and girls on the start line know they're never going to get a medal in an 800m. That's the bottom line."
What do the new rules say?
The rules for athletes who have 'differences of sexual development' apply to the 400m, 400m hurdles, 800m, 1500m, one mile races and combined events over the same distances.
However, 100m, 200m and 100m hurdles are exempt, as are races longer than one mile and field events.
Female athletes affected must take medication for six months before they can compete, and then maintain a lower testosterone level.
If a female athlete does not want to take medication, then they can compete in:
International competitions in any discipline other than track events between 400m and a mile
Any competition that is not an international competition
The male classification at any competition, at any level, in any discipline
Any intersex, or similar, classification
The African National Congress - the ruling party of South Africa - previously called the measures "blatantly racist", but Radcliffe disputed that argument.
"I get really annoyed when I see these arguments come back that it's racist or it's sexist. It's none of those," she added.
"I think what the IAAF has tried to do is to go with where they've got the most proof and go with the majority, which inevitably means that some people are going to lose out."