Scottish Athletics chief executive Mark Munro backs new testosterone rules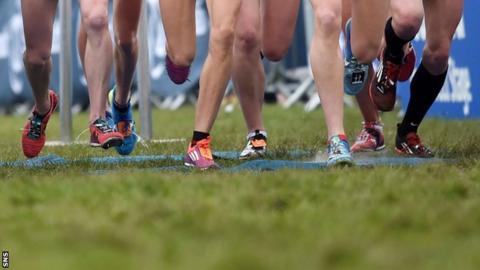 The International Association of Athletics Federations has had a "wake up call" according to Scottish Athletics chief executive Mark Munro, after the governing body changed its rules in a bid to stop women with high testosterone levels gaining a competitive advantage.
Some athletes will have to take medication to race in track events from 400m up to the mile from November.
Munro believes the IAAF needs to continue researching and improving the fairness in women's middle distance running, but with this rule change, is now moving in the right direction.
"It's obviously in certain events, the research has come back and identified 400m up to 1500m, including the hurdles," he told BBC Scotland as Scottish Athletics announced a new kit deal with Joma Sport.
"I've already been on record saying I thought it wasn't a level playing field, but again it's a shame for those athletes who it affects, it's not their fault at all.
"It's just we need to get it right, and these steps are positive, what it looks like over the long term will be interesting to see where the IAAF take that."
IAAF president Lord Coe says he new rules are "appropriate for the sport".
And Munro explained: "We have a number of athletes that potentially would have been affected around medals. Laura Muir last year was fourth behind one of those athletes.
"There'll be a number of Scottish athletes who will be quite pleased, but actually we need to look at the sport and where we are going.
"This is one step in the process but actually where are we going to be in five years time and how do we get that right?
"And, for example, Scottish Athletics ourselves, we've looked at things, we've a number of members who identify themselves as non-binary, so we've actually created a non-binary category in mass participation road races and other events as well.
"We have to look at the modern world and how it's moving, we need to look at that in its whole.
"This has been a key point, or a wake-up call, I don't mean that in a negative sense, but it's certainly made people sit up and say, 'right where is the world moving, how do we develop our sport as athletics, how do other sports develop as well?' It doesn't just affect athletics, it will affect other sports.
"So how can we look at that, looking at five years ahead, will this rule still be there? What will it look like? What happens to those athletes? Are they going to compete in men's races? So does the men's race become an open category? I don't know.
"There's a lot more research to be done but for now I think it's a positive step."