Mark Dry: 'This could be my last chance to represent Scotland'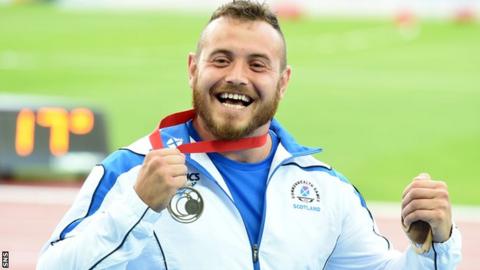 Commonwealth Games bronze medallist Mark Dry will compete in Sunday's Loughborough International athletics event, despite requiring hip surgery.
The hammer thrower is seeking funding for the operation, which will provide him with a complete new metal or ceramic hip, "as soon as possible".
"I believe in the surgery," the 30-year-old said.
"But for whatever reason, if something went wrong, then this is my last chance to represent Scotland."
Dry will also compete for Great Britain and Northern Ireland at the Halle International event in Germany the following weekend.
The Scot's prospective operation requires a recovery period of between four and six months.
However, if Dry is unable to obtain the surgery soon, he will aim to qualify for the European Championships in Berlin this August.
"I have another chance to throw for GB and NI and again that could conceivably be my last GB vest," said Dry, who earned bronze at Glasgow 2014 and at this year's Gold Coast Games. "It's hard to pass up these honours.
"Also, if for any reason that the surgery is delayed, then I need to try and get some qualifying distances for the European Champs in Berlin - even though my preference is to get things done earlier so I can rehab fully next winter."
Scotland team for the Loughborough International
Women's team:
100m - Katy Wyper; 200m - Beth Dobbin; 400m - Kelsey Stewart; 800m - Mhairi Hendry; 1500m - Jemma Reekie; 3,000m - Steph Pennycook; 3,000m Steeplechase - Lauren Stoddart; 100m hurdles - Heather Paton; 400m Hurdles - Mhairi Patience.
High jump - Emma Canning; triple jump - Zara Asante; long jump - Rachel Alexander; pole vault - Courtney MacGuire; discus - Kirsty Law; hammer - Rachel Hunter; shot put - Mhairi Porterfield.
4 x 100m relay: Wyper, Chloe Lambert, Dobbin, Paton, Jade Henry.
Men's team:
100m - Michael Olsen; 200m - Adam Clayton; 400m - Grant Plenderleith; 800m - Sam Brown; 1500m - Ben Potrykus; 3,000m - Sol Sweeney; 400m hurdles - Jack Lawrie; 110m hurdles - Andrew Murphy.
High jump - Allan Smith; long jump - Paul Ogun; triple jump - Aidan Quinn; pole vault - Scott Huggins; discus - Angus McInroy; hammer - Mark Dry; javelin - Greg Millar; shot put - Ciaran Wright.
4 x 100m relay: Olsen, Clayton; Alec Thomas, Kade Thomas, Praise Olatoke.
4 x 400m relay: Young, Lawrie, Plenderleith, Lewis Brown, Shawn Wright.