Great CityGames: Bringing athletics to streets will showcase stars - Pozzi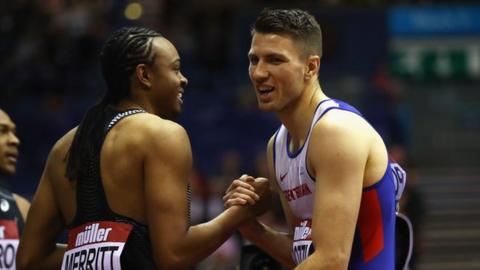 Great CityGames
Venue: Deansgate, Manchester Date: Friday, 18 May
Coverage: Live on BBC Two, BBC iPlayer and the BBC Sport website and app from 18:00-19:30 BST
Bringing athletics to the streets is a great way to show just how remarkable the sport's stars are, say hurdlers Andrew Pozzi and Aries Merritt.
Briton Pozzi and American Merritt will race over 110m hurdles at Friday's Great CityGames, on Deansgate in Manchester city centre.
The pole vault event will take place at nearby Albert Square.
"I think our biggest challenge as a sport is conveying what some athletes are capable of doing," said Pozzi, 26.
The world indoor 60m hurdles champion added: "If you have ever seen a high jump bar at 2.40m, trying to understand how a human being can get over that is unbelievable, then you have people throwing a javelin 90m, which is completely mind-bending.
"In our event, we run at 30km/hr over 10 hurdles and often the first thing people say to me is: 'I had no idea they were so high.'
"I think sometimes that is lost when you are watching on television and bringing the sport to the streets is a great opportunity for people to show it and see it right in front of their faces."
Meeting organisers are becoming more innovative at staging events in an attempt to attract new fans.
In the past the Zurich Diamond League pole vault and shot events have taken place at the city's railway station and at the prestigious Drake Relays in the US, the pole vault event has been held at a shopping centre.
Merritt, the 2012 Olympic champion, competed in the Manchester event in 2015 but the 32-year-old had a kidney transplant in August of that year.
He missed out on a place in the US team for the 2016 Rio Olympics, but returned at last year's World Championships in London, finishing fifth and was fourth behind Pozzi in Birmingham in March.
Pozzi has also had to deal with setbacks after an injury which wrecked his Olympic debut as a 19-year-old at London 2012 and hampered him for the next few years.
Both men believe that the camaraderie between all of the hurdlers has helped to keep them motivated.
"It's not like the sprinters, who are always angry at each other and talking trash at each other, because of the fact of the barriers we have to clear," said Merritt.
"No matter how much 'smack' you talk, no matter how arrogant you think you may be, you still have to clear 10 barriers and they are your worst enemies - even more fierce than the eight or nine competitors you have to face.
"One false move, one mistake made and splat."
Pozzi, who was sixth in the men's 110m hurdles at the Commonwealth Games on the Gold Coast in April, is hoping for a better summer season, which includes August's European Championships in Berlin.
"It is such a strange dynamic because on the track we are the fiercest of rivals and competitors but you share more in common with your rivals than you do with anyone else on the planet," he said.
"Few understand what you do day to day like your fellow competitors and it shines through.
"In 2012, my first year as a senior when I was trying to learn the ropes, having people like Aries helping and advising me with the injury and showing interest and support was a huge help.
"I learned early on that it doesn't need to be aggressive and that you can draw a line between business when you are racing and how you conduct yourself away from it."
Schedule
Great CityGames (all times BST)
16:30: Men's pole vault
18:38: Men's 100m
18:00: Women's long jump
18:48: Women's T37/38 150m
18:06: Men's T13 150m
18:58: Men's 110m hurdles
18:17: Men's 200m hurdles
19:08: Men's 150m
18:28: Women's 100m hurdles
19:18: Women's 150m