Leon Reid: Sprinter's journey from years of foster care to Commonwealth medal
By John Haughey
BBC Sport NI
Last updated on .From the section Athletics
"Now I can hopefully say I am an ambassador for young people in foster care or care, that's it not a one-way path to prison or whatever else. There are so many different options you can take."
Five weeks after winning Northern Ireland's first Commonwealth Games athletics medal since 1990, 200m runner Leon Reid is talking about his sometimes hazy childhood memories.
Those 14 different foster homes were dotted all over the English midlands and West Country.
"Birmingham, Wolverhampton, Nottingham, Gloucester, Bristol... all over especially when I was younger," recalls the 23-year-old.
"Different families. Different brothers, different sisters, different schools. They would move you around a lot. I'd be in a different school every other year. Trying to make friends. It was sport really that kind of grounded me."
Reid puffs out his cheeks at one point and you wonder whether you've pressed him a little too much.
But he keeps going, explaining how he empathises with the upheaval his arrival maybe visited on some of his foster families.
"You are young and you don't think about the fact that they are taking you into their family, into their lives."
Reid placed into care as a baby
Reid's Belfast-born mother Anne-Marie had moved to Bath with her parents and it was his grandparents who maintained the young Leon's connection with his birth family after he was placed into care as a baby.
"My mother had her own difficulties. We tried to stay in touch (the two of us)," recalls Leon of his birth mother who passed away in 2016.
But it was a case of "in and out" of foster home after foster home for the first decade of Leon's life although a schoolyard scrap at the age of six started an unlikely chain of events which led to him finding a stable family environment.
Within five years, he was the adopted brother of the young boy he had fought with.
"That day, we were best friends by lunchtime.
"From then, it was a case of staying around Ryan's house every other night. His mum (Claire Russell), my mum now, got us put in the same football team together. We were just inseparable.
"My mum went through all the legal battles and by the time by I was 11, she was my mum and I had a brother Ryan and a sister Olivia."
With Claire hailing from Enniscorthy in Wexford, the young Leon got quickly used to regular family trips to Ireland.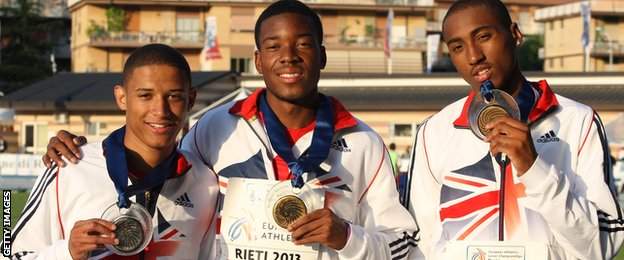 Sprint talent spotted as a 15-year-old
Amid the two brothers trying just about every sport possible, Leon's athletics talent quickly became obvious as a 15-year-old.
Within eight months he was winning two European Youth Olympics medals for Britain.
But despite clinching the English Schools title a year later in 2012, he missed out on a place at the World Junior Championships later that summer.
Having showed his championship pedigree by winning European Junior 200m silver in 2013, Reid's 2014 campaign was hindered by a broken cheekbone after an accidental collision with a fellow athlete, although he did battle through the pain barrier to compete for Northern Ireland at the Commonwealth Games.
Fully fit the following summer, Reid believed his early-season times of 20.62 and 20.67 seconds should have had him in the mix for the British 200m spot at the European Team Championship but there was no contact from the selectors as they opted for the experienced Danny Talbot who finished second in the event in 20.62 seconds.
"In the end, they said they didn't select me because I didn't show interest in wanting to do the event.
"I didn't know you needed to show interest to represent your country. I thought that was why we did the sport to be the best that we can be and show that on the big stage."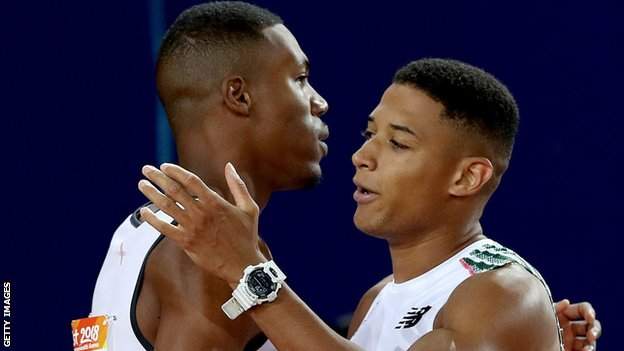 Reid waiting on key IAAF July decision
While he did win another European Championship 200m silver at Under-23 level later that summer, a sense of disillusionment with the UK set-up was setting in.
By early 2017, after talking over the issue at length with coach James Hillier and his mother, Reid decided to apply to the IAAF to have his international eligibility changed from Britain to Ireland.
However just as Leon was getting all the necessary documents together came the news that the IAAF had put an immediate block on international transfers because of the huge amount of predominantly African athletes switching to other countries.
Fifteen months on, Reid's ambition to represent Ireland remains in limbo with his plea to IAAF president Lord Coe prior to last August's World Championships in London already having fallen on deaf ears.
The Bath-born sprinter is now having to wait on the next meeting of the IAAF's council in Buenos Aires in July which is expected to make a final deliberation on the issue of international transfers.
Legendary Johnson backs Reid switch plea
If Reid gets an immediate green light, he will be in line to represent Ireland at the European Championship in Berlin a few weeks later, with the athlete hoping public backing from Michael Johnson during BBC's Commonwealth Games coverage will do his cause no harm.
Reid is adamant an unfavourable outcome in Argentina will not lead him to reconsider the option of representing Britain again.
"I feel like it should be fine and I should be at the Europeans in August. I'll be ready to run. I'm preparing for it anyway. We're just waiting for Seb Coe to tick a box."
Johnson described Reid's plea to the IAAF as a "legitimate allegiance transfer" after watching the Northern Irishman being awarded 200m bronze in Australia following the disqualification of England's first-placed Zharnel Hughes for a lane infringement.
Reid working three jobs
Reid may now be receiving congratulations from all and sundry for his Commonwealth medal but is still having to work three jobs to fund his sporting career which includes a nightclub stint from 9pm until 3am as well as coaching five to seven-year-olds at a school in Bath.
Leon laughs when he recalls how his pupils were completely underwhelmed by his medal when he brought it into school as they instead wanted to see the teddy bear he had also been presented with on the podium.
"They were saying: 'Where's the teddy. We saw that he was wearing pyjamas'," he laughs.
Fittingly after all she has done for him, Leon presented his mother with the cuddly toy although he jokes that she has now passed it on to his nephew "without my permission".
"I will have to take it back when he's asleep."