Belfast Milers Meet: Emma Mitchell and Jason Smyth in Mary Peters Track action
Last updated on .From the section Athletics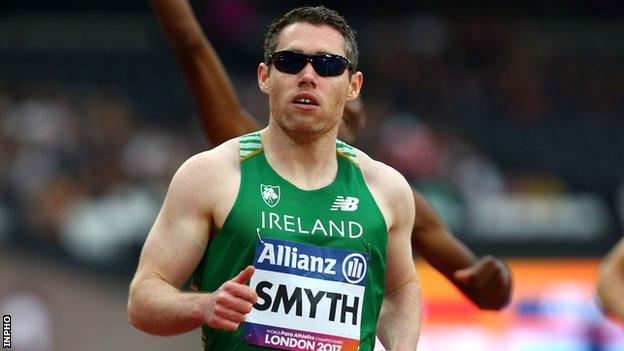 Emma Mitchell and Paralympic star Jason Smyth are among the entries for Saturday's fourth staging of the Belfast Milers Meet.
Once again, Beechmount Harriers, the Irish Milers Club and Belfast running club The Coolers are putting on the Mary Peters Track meeting.
The meeting will include Letterkenny man Danny Mooney's attempt to beat the four-minute barrier for the mile.
Kenyan distance man Dan Tanui has filed a late entry for the mile race.
Tanui finished second in the recent Belfast Marathon and also won a 5km road race in Dublin's Docklands last weekend.
On the face of it, the mile should be way too short in distance for the African but it will be intriguing to see how he goes.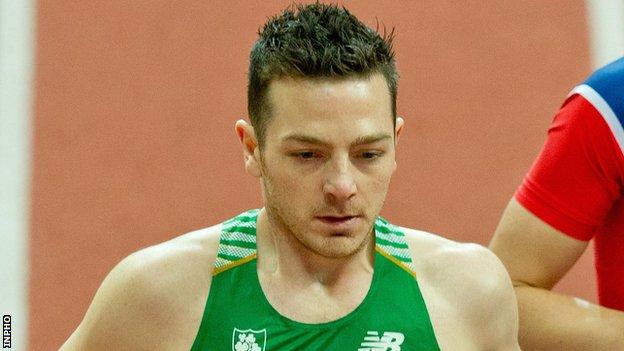 Mooney asks for 1:58 pace at 800m in mile
With pacemakers having been organised for all the main distance races, Mooney is asking to be taken through 400m in 59 seconds and 800m in 1:58.
"Danny had two cracking runs in the recent Donegal Championships which included running 1:48 for 800m," says Belfast Milers Meet director Eamonn Christie.
"He was flirting with the idea of moving up to 3,000m or even 5,000m last year but seems to have come back to thinking that the 8 and 15 are his best events."
The four-minute barrier hasn't been broken at the Belfast venue since the days of the Les Jones meeting in the 1990s so if Mooney, or indeed anyone else, was to achieve the feat, it would be a tremendous conclusion to the meeting.
The men's mile winner will pick up £300 with a further £200 being pocketed if he can duck under four minutes.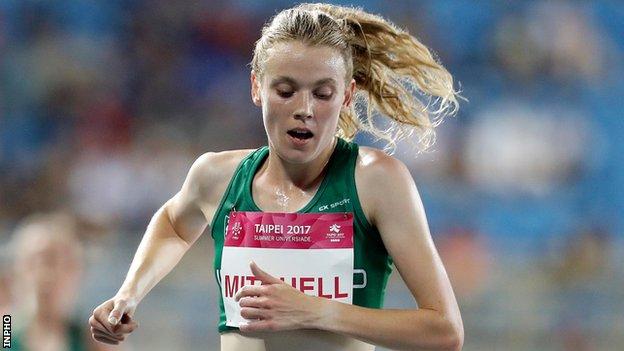 Mitchell races Duck in women's 3,000m
Mitchell will have her first track run in Northern Ireland since her impressive performances at the Commonwealth Games when she takes on English 9:07 woman Claire Duck in a 3,000m which will kick off the senior races at 13:30 BST.
Abbie Taylor, the daughter of former Irish miler Dave Taylor, will chase the World Junior Championship standard of 9:22.00 having already improved her personal best to 9:26 this year.
Queen's University athlete Mitchell achieved a third European Championship 10,000m A standard with a 32:54.85 clocking at the European 10,000 Cup in London last weekend.
With the Banbridge woman having also achieved a 5,000m B standard, her place in Berlin looks assured while she is already planning ahead for switching her focus to the marathon with a view to running the event at the Tokyo Olympics.
"She will have a go at a half marathon in late October, possibly in Valencia, with a view to doing a spring marathon next year," added meet organiser Christie, who is Mitchell's coach.
Christie disappointed by funding blow
Five-time Paralympics gold medallist Smyth will race in the 100m having won over 150m in last Friday's streets meeting in Manchester.
Meet organiser Christie has been delighted with the response of athletes from all over Ireland with 200 entries having been submitted.
"Last year, it was voted one of the best meets in Ireland in a survey done by IMC and Athletics Ireland and with the weather forecast for temperatures of around 17 or 18 degrees, conditions are going to be absolutely perfect."
Christie's only gripe heading into the meeting is at Belfast City Council's decision not to give any funding for the event.
"It's the third year in a row we haven't got any funding from the council and it's very disappointing.
"The meeting is aimed at encouraging health and well being in Belfast and I'm promoting the Mary Peters Track but they told me they were over-subscribed with funding requests for event.
"I bring people into Belfast and they use the city's hotels. Every event is sponsored by good local companies and we don't make any money on the meeting at all. Everything we get is ploughed into the meeting."