Parish Walk: Richard Gerrard claims fifth title but 'couldn't eat'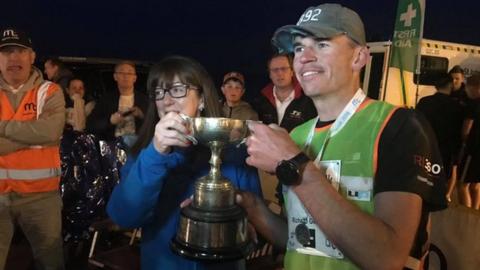 Richard Gerrard said he was "delighted" to claim his fifth Manx Telecom Parish Walk title after struggling to eat from the half-way stage.
Gerrard finished the 85-mile walk in 15 hrs 25 mins and 10 secs, about 35 mins ahead of 2017 winner Liam Parker.
He said: "After 45-50 miles I just couldn't eat anything but I managed to hold it together until the end."
Pete Miller finished third, with Bernice Johnson the leading female competitor in 12th position.
Johnson completed the event in 17:37:17, with Ewa Kowalewska second and Karen Lawrie third.
In total 184 of the 1,278 who started at the National Sports Centre in Douglas completed the full distance inside the 24-hour time limit.
And winner Gerrard added: "I couldn't have done it without the support from my family telling me to shut up and get on with it. "
Instead of the full route, the majority of those taking part aimed to walk 19 miles to Rushen or 32 miles to Peel.
Connor Gilbert and Anna Hall won the men's and women's under-21 races to Peel.