BBC Sport - Dai Greene: British Championship final 'a true test' of improvement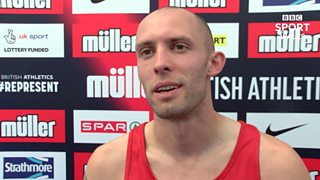 'A true test of my improvement' - Greene
Former world 400m hurdles champion Dai Greene says Sunday's British Championship final will be a "true test of improvement".
The 32-year-old Welshman has been on the road to recovery since he was forced to pull out of the 2018 Commonwealth Games in April with a torn hamstring.
Greene won Saturday's fourth and final heat to make it through to Sunday's final with a time of 51.14 seconds.
Top videos