Welsh pole vaulter Sally Peake 'will probably' retire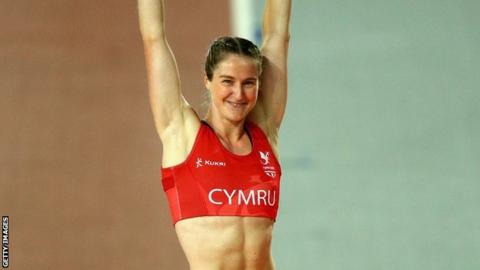 Commonwealth Games silver medallist Sally Peake says she will probably retire at the end of the 2018 season.
The 32-year-old Welsh pole vaulter - who came second at Glasgow 2014 - won bronze at the British Championships in Birmingham on Saturday.
"I'm probably going to retire from here," Peake told BBC Sport Wales.
"I was always going gung-ho for the Commonwealth Games and then would see what happened after that so I think it'll probably be my last year."
The Cardiff Athletics Club competitor's personal outdoor best came at the 2014 Glasgow Commonwealth Games, when she jumped 4.40m.
Her best indoor effort came at Nevers, France in 2012 with 4.42m.
She said wind conditions made the Birmingham event difficult, but was "disappointed" with 4.15m in a competition won by Blackburn's Holly Bradshaw with 4.60, with Sophie Cook of Birchfield Harriers second with a jump of 4.25m.
Peake added: "I'm getting old now so probably need to move on with my life. I've had a brilliant run.
"I've enjoyed my time as a pole vaulter, I've gone around the world doing it, it's been brilliant. But it's probably time to move on to the next step."
Thomas' delight
Wales' Ieuan Thomas secured his place at this summer's European Athletics Championships by winning 3,000m steeplechase silver in Birmingham.
The 28-year-old had already run the qualifying time and needed a top-two finish in Birmingham to confirm his place on the British team.
He ran 8;33.88 to finish less than a second behind winner Zak Seddon.
The European Championships will complete a remarkable 12 months for Thomas.
His GB debut came at the 2017 World Championships before going on to race in his first Commonwealth Games in Australia last April.
"Three outdoor major championships in a row - that's a world away from where I was four years ago, missing out on (the 2014 Commonwealth Games in) Glasgow," he told BBC Sport Wales.
"It's just been an incredible few years."