Katarina Johnson-Thompson: Heptathlete says she has yet to reach her peak
Last updated on .From the section Athletics21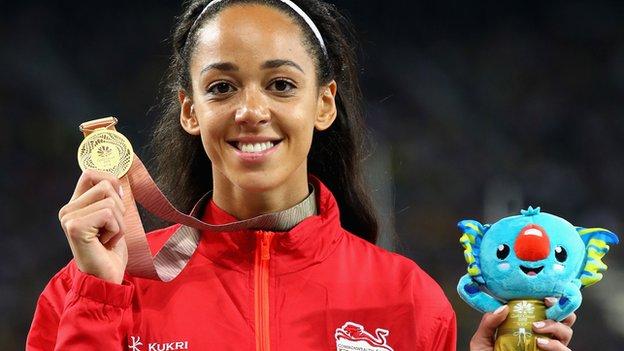 Katarina Johnson-Thompson says she is yet to reach her peak and wants to build on her Commonwealth Games heptathlon triumph as she targets success on three fronts.
The European Championships in Berlin in August come before next year's World Championships and the 2020 Olympics.
Victory for the 25-year-old English athlete on the Gold Coast in April was her first major outdoor title.
"I feel like it is all coming together for me," she told BBC Sport.
"When I was younger I was a bit more erratic in my performances. I always had one disaster that ruined my score."
Johnson-Thompson, long tipped to emulate British Olympic champions Denise Lewis and Jessica Ennis-Hill, has failed to win a medal at two Olympic Games and three World Championships but believes her best is yet to come.
"For sure. It's that way for heptathletes. I think they reach their peak when they are in their middle to late 20s," she said.
She hopes to have turned a corner after a series of disappointments - three fouls in the long jump ruined her chance at the 2015 World Championships and she was fifth in London two years later, with a sixth-placed finish at the Rio Olympics in between.
In 2016, she split with long-term coach Mike Holmes, left her home city of Liverpool and joined a new training group led by former multi-eventer Bertrand Valcin in the south of France.
She is slowly learning French and adapting to being away from home, but regards the move to Montpellier as a necessary one.
"After the Olympics in Rio, I wanted to give my all in the build-up to Tokyo 2020 so where I'm based is a major change for me," she said.
"I've been in Liverpool my entire life and my family, friends and my dogs [Bronx and Chorizo] are there. It was definitely difficult to move away but it's something I had to do for my career.
"I just gelled with the coaches - they have a history of being good at throws, which is my weakness, and they believe in me, which I really like.
"I know I've got a limited amount of Olympics in one career so I just want to make sure I've done everything I could."
Johnson-Thompson at the big two

Olympic Games
World Championships
2012:

15th

2013:

5th

2016:

6th

2015:

28th

2017:

5th
Johnson-Thompson won her first global title in the pentathlon at the World Indoor Athletics Championships in March.
Gold at the Commonwealth Games came despite nursing a calf injury and last weekend's British Championships - where she finished second in the high jump behind Morgan Lake - was her first competition since the Gold Coast.
"I've still got the season ahead. I'm just trying to put all my focus into that and not be happy with what I've got," she said.
She will compete at two events in London - the Athletics World Cup on 13 and 14 July and the Anniversary Games the following weekend - before the European Championships in August, which will be a real test of her form.
"The first, second and third in the World Championship last year were all from Europe so it's definitely like an Olympic final," she said.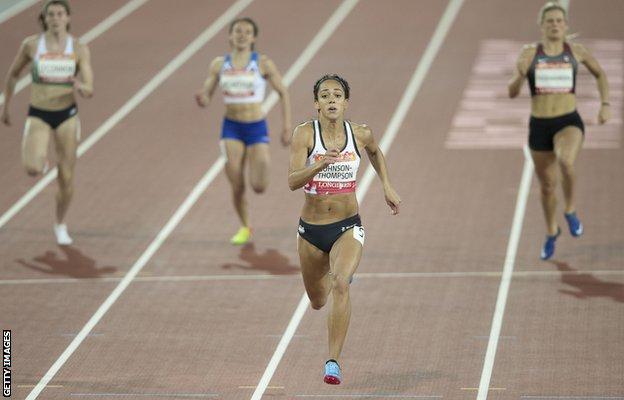 Johnson-Thompson has also been learning about another sport, as an ambassador for horse racing's Qipco British Champions Series.
"I'm a huge animal person. Horses fascinate me. There's a lot of similarities in the way they are trained, prepared for events and given a mental break afterwards," she said.
She hopes to be in the right frame of mind for the challenges ahead and asked if world or Olympic gold was a realistic ambition, replied: "I should hope so. I wouldn't be training if not."