Scott Simpson: Head of performance leaving Welsh Athletics 'in exciting place'
Last updated on .From the section Athletics
Welsh Athletics' outgoing head of performance and coaching, Scott Simpson, says he is leaving the sport on "a really positive trend".
Simpson will leave Welsh Athletics this week after six years in the job knowing seven Welsh athletes have qualified for this summer's European Championships.
At the same event four years ago not one made the British team.
"I came in after the Olympics in 2012 and the first couple of years were tough," Simpson told BBC Sport Wales.
"We had a bit of bruising at the Commonwealth Games in 2014 and the couple of years after that were a real challenge.
"So I'm delighted that over the last two years we've come out of that and there's some real positivity, energy and pace behind athletics in Wales right now."
Simpson will leave his role later this week before taking up a senior coaching role with British Athletics.
'Old hats' and 'exciting prospects'
Former world champion Dai Greene was one of three Welsh athletes to win national titles in Birmingham over the weekend.
Discus thrower Brett Morse and race walker Bethan Davies also took gold.
Greene's win - his first national title since 2013 after years of injury problems - was also enough to secure a place at next month's European Championships.
Melissa Courtney's silver in the women's 5000m confirmed her place - while Ieuan Thomas booked his spot with second place in the men's 3000m steeplechase.
They will join race walkers Davies and Heather Lewis, Caryl Jones (marathon) and Charlotte Arter (10,000m) in Berlin in August.
And Simpson believes there's medal potential in the Welsh contingent.
"It's an exciting prospect," he said. "There are some old hats in there that bring some real experience but at the same time we've got some up-and-coming athletes who've really broken through in 2018.
"That combination of both makes it really exciting going into major champs."
Building for Tokyo 2020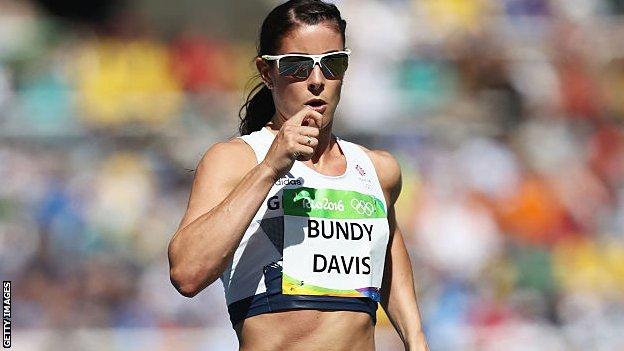 This month marks two years to the next Olympic Games in Tokyo, Japan.
At the last Games in Rio, Wales had just one track and field athlete in Team GB, Seren Bundy-Davies, who failed to make it through the heats of the women's 400m.
But Simpson is hopeful of Wales having more to cheer about in 2020.
"Making an Olympic team is a little bit tougher than making a European team," he admitted.
"That said, the vast majority of the athletes who've qualified for these European Championships will be in the hunt for Olympic places in two years time.
"And there are a number of athletes who aren't here this weekend - the likes of Dewi Griffiths - who'll also put their names into the hat.
"It's a really exciting time and I can't see it going down over the next two years."
In a statement, Matt Newman - chief executive of Welsh Athletics - said: "It's been a real pleasure working with Scott over the past six years.
"His passion, integrity and dedication to the role has set the foundations for the future stars of Welsh Athletics. We wish him well in his new role and success at the 2020 Tokyo Olympics."
Chris Jones, currently National Endurance Manager for Welsh Athletics, will take over Simpson's job on an interim basis.