Sommer Lecky: Castlederg 18-year-old clinches World Under-20 high jump silver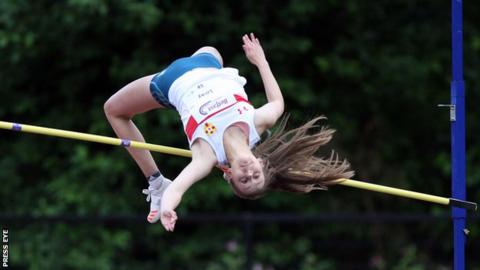 Castlederg teenager Sommer Lecky has won a silver medal for Ireland in the high jump at the World Under-20 Athletics Championships in Finland.
The Finn Valley athlete jumped 1.90 metres and set a new Irish U20 record as she added four centimetres to her previous personal best.
Lecky's medal follows the silver won by the Ireland women's 4x100m relay squad in Tampere on Saturday.
The 18-year-old won gold at the 2017 Commonwealth Youth Games.
She also competed for Northern Ireland at this year's Commonwealth Games in Australia where she finished in 10th place.
Lecky's leap left her two centimetres behind Belarus' gold medallist Karyna Taranda.
The Tyrone youngster did have an early failure at 1.80 but regrouped with a second-time clearance.
She added one centimetre to her previous personal best set indoors earlier this year with a new Irish junior record of 1.87m as she produced another second-time clearance before managing 1.90m at this first attempt.
Lecky made three attempts at 1.92m but was unable to add to her previous height.
The Northern Ireland athlete's performance, which was also bettered the qualifying standard for next month's European Championships in Berlin, earned only Ireland's fourth ever medal at a World Under-20 Championship.
Antoine Burke also won a high jump silver in 1994 with Ciara Mageean clinching a 1500 second place at the 2010 championships prior to the women's relay squad's medal on Saturday.
Meanwhile, Belfast athlete Megan Marrs finished seventh in the 100m hurdles at Sunday's World Cup meeting in London after clocking her second fastest ever time of 13.36 seconds.
Representing Britain, Marrs was 0.04 seconds outside her personal best set earlier this summer as South African Rikenette Steenkamp (12.88), Jamaica's Jeanine Williams (12.95) and the USA's Queen Harrison (12.99) filled the first three positions.